Gov. Bill Walker was in Ketchikan this week, and had a full day of meetings and presentations. They started with a special Chamber of Commerce lunch, then a meeting with elected officials from three local governments, and finally a short news conference with local media.
Gov. Bill Walker has money on his mind. Still.
As the State of Alaska continues to face a multi-billion-dollar deficit, Walker and his administration are gearing up to write his budget proposal in advance of the next Legislative session.
Speaking to the Chamber of Commerce, the governor said he expects that the current fiscal reality is the "new norm," and Alaska must adjust to long-term low oil prices.
Alaska's budget depends heavily on oil tax revenue, and when oil prices are low, that revenue drops.
Walker says the Legislature failed to act on any new sources of revenue, which is why he moved to reduce the Permanent Fund Dividend appropriation.
Walker said he felt it was a necessary move.
"I said in my State of the State, I'll take all the blame and give the Legislature all the credit, if there's any credit to be given," he said. "I think at this point I've succeeded in taking all the blame. I think I've got all that right on me. And that's OK – I don't shy away from that."
Walker said he hopes the Legislature will be more willing to look at revenue sources after the Nov. 8th election. And by revenue, he means taxes.
"We, right now, have the lowest personal… taxes or payment to government in the nation. If you put forth all the proposals we submitted last year, with a $1,000 dividend, we're still the lowest in the nation," he said. "I don't like taxes at all. I don't like taxes at all. I don't like income tax, I don't like sales tax, I don't like any of that stuff. But I can't ignore the government services that we need to provide."
It's not all doom and gloom, though. Walker said there are opportunities the state can take advantage of to create a more economically diverse and stable future.
One of those is natural gas. Walker recently returned from a trip to Korea, and said other participants in a meeting there were amazed that Alaska doesn't tap into and sell its gas.
"They spend $10 billion a year to bring natural gas into their country," he said. "We're reinjecting double that amount right now."
Following Walker's presentation, an audience member asked about the Alaska Marine Highway System, and how to convince Southcentral and Interior lawmakers of its economic value to the entire state. Walker said that can be challenging.
But, the state has started a process with Southeast Conference to establish a long-term plan to stabilize the Alaska Marine Highway System.
"I got a little bit of a glimpse from some members of that committee that we put together, is that they wanted to be a little more aggressive on – the Marine Highway is such a jewel that we don't actually use is as much as we should," he said. "We should be pushing that and marketing it more than we are.  And they're going to be playing more on the offense than the defense. I like that very much."
Another audience member asked whether the state has a plan to continue funding its share of the Public Employee Retirement System and Teacher Retirement System, commonly called PERS/TRS, that doesn't involve pushing more costs onto local government.
Walker said the state is working to refinance that program, which would reduce the costs and not further burden local communities.
During his meeting with elected officials from the Ketchikan Gateway Borough, City of Ketchikan and City of Saxman, Walker said he knows that deficits roll downhill, straight toward local governments. He said the best way to stop hurting local governments is to fix the deficit and stabilize the state economy.
Walker said that last year, he asked governments to submit resolutions in support of a fiscal plan.
"This year, we're going to go a step further," he said. "We're going to ask you to testify, and … say, 'Fix this. Fix this.'"
City Mayor Lew Williams III told Walker that, from the city's perspective, if the state has to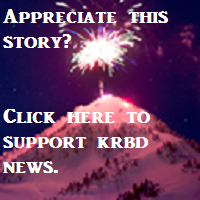 implement a tax he prefers that it not be a sales tax, because that's a primary revenue source for local governments.
Walker responded that he would prefer an income tax. In his earlier comments to the Chamber, he said that an income tax would take advantage of all the seasonal workers who take most of their incomes back south when their jobs are complete.
Borough Assembly Member Felix Wong suggested the state invest in training and education to encourage new industry, and look at ways to take advantage of the Arctic opening up to shipping.
Walker agrees Alaska is strategically placed.
"We need to start thinking – look at our location differently than we have in the past," he said. "We're probably more part of Northeast Asia than we are of the Lower 48, as far as trade – so, you're absolutely right to be thinking that way. We need to be thinking that way: What we can bring to Alaska. Those opportunities are there."
But, Walker said, the state can't take advantage of those opportunities until it balances its checkbook.
During a media interview later on Thursday, Walker talked a little more about the process he's taking to draft his proposed budget. He said he will repackage some of his previous proposals for revenue, and there likely will be more cuts, too.
Walker also talked about the Alaska Mental Health Trust board's decision in August to log portions of Deer Mountain and land above homes in Petersburg unless a federal land exchange is approved by Congress in January.
Walker said his office heard from many concerned citizens, and discussed those concerns with the Trust.
"It looks like the process wasn't a good process that was followed," he said. "I just saw a press release that the Mental health Land Trust is now going to reopen the process, have public hearings that should have happened before, receive public input that should have happened before, so that's a good start."
The Trust has scheduled public meetings on the issue in Petersburg, Saxman and Ketchikan.