Prompting a feeling of deja-vu, Joe Miller is running for U.S. Senate against incumbent Lisa Murkowski. This time, though, Murkowski won her primary and has the Republican Party backing, and Miller is running as the Libertarian Party candidate.
Miller visited Ketchikan last week to meet supporters and talk with local media.
Joe Miller said he decided to accept the Libertarian Party's nomination to give Alaskans a choice in the Nov. 8th general election.
Miller was invited to become the Libertarian candidate just last month, after the former candidate chose to drop out.
"So, it's a very short campaign. It's a viable campaign…. And if we pull this off, it will probably be the shortest campaign in the history of American politics that's taken out an incumbent," he said.
While he ran previously as a Republican, Miller said he shares basic Libertarian values.
"I believe that decision-making should be closer to home, and that's really a Libertarian principal. The federal government should be constrained, like the Constitution said, and we closer to government should be in control of that. It's basically a way to avoid the type of corruption that I think has so polluted Washington, D.C., today," he said.
Miller said he's also running because he feels Murkowski was not an effective representative for Alaska. He said the old method of trying to get as much federal money as possible for the state isn't working anymore, because the available money is shrinking.
"There's very few people in this state who have not felt the influence of the shrinking money pot from the federal government, but that's where political leverage has gone, to try to get as much of that shrinking share of federal money as can be gotten — and the reality is, that's a dead-end road for Alaska. We know the end result of that is less and less, as far as money goes, to this state. So why not chart out a new course for Alaska?" he said.
Miller said the answer is getting more access to the rich resources in Alaska, most of which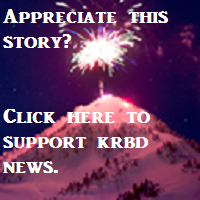 is currently owned or controlled by the federal government. He said that includes timber.
So, how would he do that? As a Libertarian, Miller said, he would not be obligated to vote with either party, and there is potentially going to be a 50-50 split in the Senate following the November election.
In that case, Miller said his vote would be a valuable commodity.
"Could you imagine, if we're in a split, and basically I have the ability to tell, for example the Republican party, who the majority leader is going to be? And of course, my commitment to Alaskans is, I'm running to make life better for you (so) that decision is going to be focused on making sure the person that gets that position is someone that will be basically cooperative with our effort to get our resource base back," he said.
Miller also criticized Murkowski for her recent announcement that she will not support the Republican Party's presidential nominee, Donald Trump. Murkowski called on Trump to step down as the nominee following the release of a video in which Trump made vulgar comments about women.
Miller said Murkowski's decision effectively throws support to the Democratic nominee.
"I absolutely oppose Hillary (Clinton) as president. I think she'd be catastrophic to resource development in this state. She's made it clear where she stands on those issues. She will kill jobs in this state. Anybody that wants a future in this state should not vote for Hillary Clinton," he said.
Miller said he was disturbed by the comments in video, but still supports Trump as the candidate who will make the best decisions for Alaska.
Six years ago, Miller was the Republican nominee for Senate after beating Murkowski in the primary election, but then Murkowski ran a write-in campaign for the general election and won.
Miller said this time around, he's doing some things differently. For example: "I've got a campaign manager," he said, laughing. "It's helpful, because then I don't have to be the campaign manager."
Miller said they're also raising money at a fast pace from Alaskans who believe in his message. That message includes limited federal government and state's rights.
"For example: Does the Constitution talk about marriage? No it doesn't. It's a state issue; states should be deciding (and) the federal government should not be infringing. Roe v Wade was perhaps one of the most anti-states-rights decisions that was out there. Other areas: Drug use, for example. I've made it very clear that the federal government's drug war is clearly unconstitutional. At the borders, yeah, they've got a role, but outside of that, they don't have any constitutional role in that area. The states should be making those decisions," he said.
Miller said he is optimistic about his campaign, and said some polls place him within single digits of Sen. Lisa Murkowski.
Other polls, though – such as a recent one commissioned by the Alaska Dispatch News – show Murkowski with a wide lead. In that poll, Miller is a distant second place, followed by Democrat Ray Metcalf and independent Margaret Stock.