A pickup truck drove into the side of Rose's Caboose early Wednesday afternoon, damaging the restaurant building and injuring the driver and one person inside the building.
Ketchikan Police Department Deputy Chief Josh Dossett says the 911 call came in a little after 1 p.m.
"Both (the) fire department and police department were dispatched to the scene where we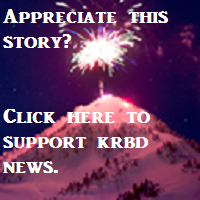 found a single-vehicle accident: one vehicle striking, almost dead-center the caboose, knocking it off its mooring. There was extensive damage to the building," he said.
Dossett says one employee in Rose's Caboose was reported injured in the accident, and the 31-year-old driver of the pickup truck complained of some pain. Both were taken by ambulance to PeaceHealth Ketchikan Medical Center for evaluation. Dossett says neither seems to be badly injured.
Dossett says the cause of the accident is under investigation, and police are not ready to release the name of the driver. He had some details of what happened, as told to police by the driver.
"Looks like the vehicle was traveling into town, began to slide, according to the driver, felt like it was beginning to slip, went into the guardrail on the north side of the parking lot, went through the parking lot, clipping a vehicle there that was in the parking lot, unoccupied, and struck the front of Rose's Caboose," he said.
Rose's Caboose is a longtime, popular local restaurant on North Tongass Highway. The kitchen and serving area are inside a train caboose, with a separate small seating area in an adjacent building.
The restaurant's Facebook page announced Wednesday afternoon that Rose's Caboose will be closed until further notice.
 This report has been updated with additional details.