The borough's planned mail-in charter commission election will be an in-person election, after all, if a resolution to that effect is approved by the Ketchikan Gateway Borough Assembly during a special meeting Monday.
In mid-September, the Assembly voted to start the process of creating a home-rule charter for the borough. That process begins with the election of a seven-member charter commission.
The election was to be conducted by mail, but the timing didn't work out because the borough would have to order materials for that mail-in election before the final deadline for charter commission candidates to file.
It still could be a by-mail election, according to a memo to the Assembly, but the borough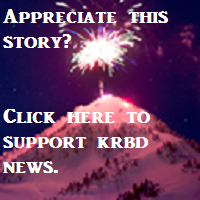 would have to spend money on materials without knowing whether enough people have filed.
Interested people have until Nov. 4th to file for a commission seat. Borough Manager Dan Bockhorst said during a recent meeting that some people have picked up the filing paperwork, but nobody has turned it back in yet.
If the resolution is approved during Monday's special meeting, and at least seven people file for the commission, the election would take place in mid-December, and voters would have to go to their usual polling locations to vote.
Voters would pick who they want on the commission, and would vote on whether they want a home-rule charter at all. Those who favor a charter say it would maximize self-governance for the citizens of the borough.
This charter process is completely unrelated to consolidation.
The public would vote again on whether to adopt a charter after one has been drafted.
Monday's special meeting starts at 5 p.m. in Borough Assembly chambers. Public comment will be heard at the start of the meeting.