The Alaska Mental Health Trust Authority's resource management committee meets Wednesday starting at 1 p.m., and will vote on whether to recommend reconsideration of the Trust Board's decision to start the process of logging parts of Deer Mountain and a parcel in Petersburg.
The Trust's August decision to move forward with logging if a federal land exchange isn't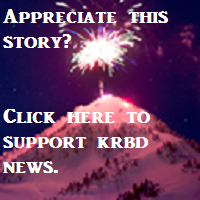 approved by Congress in January came as a surprise to many in Ketchikan and Petersburg, and groups have formed in opposition to those plans.
There have been questions about the transparency of the decision, the lack of public notice and the lack of public input before that decision was made.
Wednesday's committee meeting is a committee of the whole – meaning the committee members are the Trust Board. That meeting does not include time for public comment.
The motions on the agenda are to recommend that the Alaska Mental Health Trust Authority board of trustees reconsider its decision during its regular Nov. 17th meeting. There will be public comment during that mid-November meeting.
The Trust also has scheduled public input meetings in Petersburg, Saxman and Ketchikan. The Petersburg meeting is set for 7 p.m. Thursday.
The Saxman meeting is next Tuesday, Nov. 1st, from 3-5 p.m. at the Saxman Community Hall.  The Ketchikan meeting also is Nov. 1st, starting at 7 p.m. at the Ted Ferry Civic Center.
You can listen in on Wednesday's committee meeting by following instructions posted here.