During the Nov. 8th general election, Alaska voters will be asked whether they wish to retain 33 judges statewide.
All Alaskans will vote on whether to retain Alaska Supreme Court Justices Joel Bolger and Peter Maassen; and Alaska Court of Appeals Judge Marjorie Allard.
In the First Judicial District, which comprises the southern Southeast region, voters will decide whether to retain four of the district's judges.
They are: Ketchikan Superior Court Judge Trevor Stephens, Sitka Superior Court Judge David George, Juneau Superior Court Judge Philip Pallenberg, and Juneau District Court Judge Thomas Nave.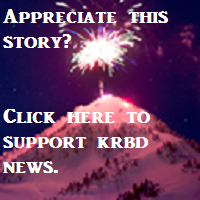 In Alaska, judges are appointed by the governor, and then stand for retention every few years, which means voters choose whether those judges keep their jobs.
The Alaska Judicial Council evaluates judges who are up for retention and provides recommendations. In an announcement sent out this week, the Judicial Council recommends that the public vote "yes" to retain all the judges on this year's ballot.