The Ketchikan School Board voted unanimously Wednesday to appoint Diane Gubatayao to fill a seat left vacant earlier this month after Michelle O'Brien resigned.
Four people applied for that vacancy, and were interviewed Wednesday. The other three candidates were retired teacher Daniel Dodson, student board member Gerik Sherrill and Carl Webb, who served previously on the School Board.
Gubatayao also served previously on the School Board. She is involved with Ketchikan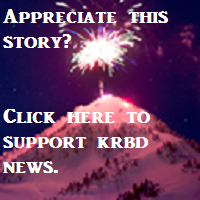 Youth Soccer League, Ketchikan Wellness Coalition, Women in Safe Homes and Ketchikan Running Club. Gubatayao also is on the Tongass School of Arts and Sciences Academic Policy Committee, but said she will resign from that position because of her new School Board commitment.
Gubatayao said her biggest asset for serving on the board is her experience as a parent, and following her children's progress through the district.
"And also, having worked in the district for two years," she said. "When I first moved to Ketchikan, I worked two years as a paraprofessional and physical therapy for special needs, and I got to visit all the schools, K-12, and so that inside kind of two years of learning about how schools function, meeting staff, learning about students' needs at different levels, I think gives me a kind of unique background."
Following her appointment to the School Board, Gubatayao was sworn in by Board President Trevor Shaw. She then took her seat for the remainder of Wednesday's School Board meeting.