A former Ketchikan resident and Peace Corps volunteer recently won a trip to Washington, D.C., after his blog about volunteering in Kyrgyzstan won an online social-media contest.
Mark Jahnke lived in Ketchikan until he was about 9 years old, but he said he's maintained a lot of ties to the community through the years.
"It still is actually the longest I've ever lived anywhere, so I still, obviously, think of it very close to my heart," he said.
And, Jahnke said, Ketchikan was the start of his path toward joining the Peace Corps a little more than a year ago. From Alaska, he moved with his family to Switzerland, where he attended an international school.
He later attended Harvard, and focused on Middle Eastern and Central Asian studies, and global health. After he graduated, he got a job in New York City, but then saw a posting about the Peace Corps.
"And the Peace Corps very recently changed its application process to allow you to rank a preference for where you want to go and what kind of work you're really interested in doing," he said. "I wasn't somebody who every really considered the Peace Corps before that, but with the new way you could apply, I could say, 'Hey, I want to go do health work in Central Asia.'"
Which is how Jahnke ended up in Kyrgyzstan.
He said Central Asia always intrigued him because of its complex history. That area was part of the Soviet Union, but also was part of the historic Silk Road, with ties to China, the Middle East and beyond.
"It's really in a lot of ways similar to the U.S. in that it's very much a melting pot of many different cultures, many different people," he said. "It's a place that constantly challenges what you expect it to be. It's a Muslim country, but they have a weekend on Saturday-Sunday. Things like that – really, this fusion of so many cultures that really have influenced it in the past 100 to 3,000 years."
Many Muslim countries have weekends that include Friday, the Muslim day of worship, rather than the standard Saturday-Sunday weekends in Western, Christian-majority countries.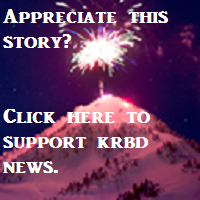 The national language of Kyrgyzstan is Kyrgyz – a Turkic language — and Russian still is an official language. Jahnke said there are five to 10 other languages spoken among the minority populations in the country.
He's not fluent in all of those languages yet, but Jahnke said he's working on it.
"I'm doing my best because in many of the villages, it's a really big sign of respect to be able to go up to somebody and show their language," he said. "And much like we have in Ketchikan with the efforts being made to preserve and promote Tlingit, Haida and Tsimshian, these languages are a really important part of identity to the people of Central Asia."
Jahnke works out of a health clinic in the southern part of Kyrgyzstan. He said he mostly focuses on training health workers, and he recently was awarded a grant to deliver resource materials to more rural areas.
"The resource books have all kinds of lesson plans that, with a little training will allow some of these health workers to really increase the level of health knowledge in their villages," he said.
During his time in Kyrgyzstan, Jahnke had the opportunity to participate in the World Nomad Games.
"The World Nomad Games is this new international competition that also doubles as a way to practice, celebrate and preserve many different traditional sports, some of which are traditional to Central Asia, and others of which are traditional to many nomadic cultures around the world," he said.
Jahnke said the World Nomad Games remind him of the Arctic Winter Games, which Alaska has hosted.
For the Nomad Games, Jahnke learned a traditional board game.
"Which is kind of similar to – if you ever played Mancala, where you pick up the stones and drop one in each little bowl as you go around the board – except we play it with 162 pieces," he said. "The rules are extremely simple, but the strategy end up being more complex than chess. So, it's easy to learn but very difficult to master, as I learned."
So difficult, that Jahnke lost in his first game. He writes in his blog that he spent the rest of the games enjoying the experience and taking lots of selfies with participants from various countries.
And, oh, yeah – the award-winning blog. Jahnke said he started "Monday Bazaar" before he signed up with the Peace Corps. He'd been studying abroad in Tajikistan, another Central Asian country, during his senior year at Harvard, and thought it was a good way to share that experience with family and friends.
Jahnke decided to maintain the blog when he joined the Peace Corps, but said he didn't really think about the potential of winning the organization's "Blog it Home" contest.
But then he won. And got a trip to Washington, D.C. And visited the White House.
"So we spent part of today both getting a tour of the White House but also getting mentored by several different staff at the White House – some of the photographers, some of the speechwriters for President Obama, and Michelle Obama's chief of staff even stopped in the say hello and congratulate us," he said.
Jahnke also went to American University to give a talk about his work with the Peace Corps. He finishes his stint with the Peace Corps next spring, and said he plans to do a little traveling and then go to graduate school.
Before we ended our interview, I asked if Jahnke wanted to give a shout out to anyone in Ketchikan.
"I have to say 'hey' to my best friend, Kristina Fabry," he said.