House District 36 candidates, independent Dan Ortiz and Republican Bob Sivertsen, squared off in a town hall debate in the Wrangell Assembly chambers on Wednesday. Below is a report originally aired on KSTK Radio.
Both Ortiz and Sivertsen agree on most things, resource development, finding additional revenue sources and looking at using permanent fund revenue to fill the state's multi-billion dollar budget gap.
A topic they did differ on was what industries were most important to develop in order to benefit state's economy. Sivertsen prioritized the timber industry, saying it could be boosted by putting state forests into a trust.
"Similar to what Mental Health trust is doing. It works more like private timber and you can
move ahead with harvesting that a getting it going."
Ortiz touted a natural gas pipeline as the most promising long-term solution.
"The markets are there, primarily in Asia, and I see a long-term solution that could bring in as much as $1.2 billion a year in new revenue as a natural gas pipeline."
Gov. Bill Walker has made two trips to South Korea this month to promote the LNG project. The state's former partners, Exxon Mobil, BP and ConocoPhillips, have backed out due to low natural gas prices.
Both candidates agreed on the importance of the fishing industry in Southeast, but varied slightly when asked how sport fishing could be taxed fairly compared to commercial fisherman.
Sivertsen said he would be in favor of a fish-box tax on fish shipped out of state. Ortiz agreed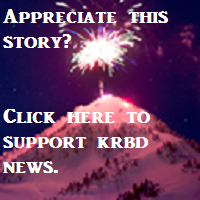 that could be a solution and also listed charter boats paying into hatcheries as an option. He also pointed to a recent increase on sport fishing licenses as a source of state revenue from the industry.
There was opposition on who would be better positioned to pass legislation in favor of the district. Sivertsen argued that the majority would remain Republican, giving him a better seat at the table.
"My opponent will try to make a case for a bipartisan coalition, but the Republicans have been in the majority for over 20 years. We have no reason to believe that will change. Senator Stedman has been supporting me because he needs a district representative in the House majority to work with. That's me."
Ortiz said that if elected, there would be a bipartisan majority with a coastal focus.
"One of the first things we're going to do is deal with the fiscal issue, we're going to make the tough vote, we're going to make the tough decisions, we're going to put the state on a sustainable path – so that we can have more regular funding for our ferry system, so we can have more regular funding for our education system, so we can make sure that the money is there for cruise ship passenger vessel taxes."
Ortiz said he's been in talks with majority Republicans about that possibility.
They also disagreed on who they would vote for in the presidential race. Ortiz said he won't vote for Republican nominee Donald Trump. He said he may vote for a third party candidate. Sivertsen said he will vote for Trump.
Sivertsen worked for Ketchikan's Solid Waste Department for several years and has served on the Ketchikan City Council the last seven. Ortiz worked as a school teacher for over 30 years. Constitution Party candidate Ken Shaw was not able to attend the debate.