Alaska Mental Health Trust and Trust Land Office representatives got an earful Tuesday during informational meetings in Saxman and Ketchikan regarding the decision to potentially log Deer Mountain.
The big question, though, is whether the public input will make any difference.
The message Alaska Mental Health Trust officials heard over and over and over again was: Don't log Deer Mountain.
The message those officials gave back was: We won't unless we have to.
And by that, they mean they will log Deer Mountain if Alaska Mental Health Trust officials and the board of trustees decide logging Deer Mountain is the best way to make money. That's what the trust does – it makes money for mental health services throughout the state. That's typically not controversial.
But when the board of trustees voted in August to move forward with a timber sale on Deer Mountain and a site in Petersburg if a federal land exchange isn't approved by mid-January, there was a public outcry, and questions about the legality of the vote and the lack of public process. So, the board is revisiting the issue, and scheduled these public information meetings before a Nov. 17th re-do of that vote.
Trustee Carlton Smith of Juneau was one of the Trust officials hosting the meetings in Saxman and Ketchikan. He said there are two things he hopes local residents get from his part of the presentation:
"We get it. We understand how important Deer Mountain is to you. We understand your feelings about Deer Mountain," he said. "And we also – and this is coming from me – apologize to you for not having this consultation earlier in this process."
Smith and other presenters repeatedly said that they vastly prefer the land exchange, which would trade the controversial parcels, along with Mental Health-owned land in Sitka and Juneau, for remote parcels of federally owned land on Prince of Wales Island and in the Shelter Cove area.
The trust then would log those remote parcels.
Trust Land Office Deputy Director Wyn Menefee said that land trade, which Sen. Lisa Murkowski has introduced, can pass during the lame-duck session following the Nov. 8th election.
"It's a viable bill. It's our preferred option. We want the land exchange. I know we discussed proposed timber sales, but we want the land exchange. That is the best interest of the trust, and that's what we're pushing hard to do," he said. "There is good precedent that, even in a lame-duck session, land-exchange bills do go through."
And, Menefee said, this particular exchange package has been vetted and approved by a variety of stakeholders, including environmental groups.
Ketchikan is a logging town, and very few people attending the public meetings have any concerns about logging in general. But the vast majority vehemently oppose logging Deer Mountain. It's not just the visual impact; many were worried about landslides, wildlife and, especially for Saxman, water.
That community's primary water supply comes from Deer Mountain. TLO Senior Resource Manager Paul Slenkamp told the Saxman group that the timber sale would be designed with that in mind, but that didn't do much to allay concerns.
Here's Joe Williams, a lifelong Saxman resident.
"You can last seven days without water. Beyond that, you can't," he said. "I'm saying loud and clear that you're encroaching on our water supply. And I'm appalled that this organization is, 'Oh, by the way, now we should meet with Saxman.'"
There also was repeated concern expressed during both meetings about the way trustees made their decision. Menefee noted that the trustees, acting as the Resource Management Committee, revisited the issue on Oct. 26, and recommended that the official board take another vote during the Nov. 17 meeting. He said public comment will be accepted on Nov. 16 by phone or in person, or earlier by mail or email.
He also noted that the vote is not to log Deer Mountain – it's to accept the staff's recommendation that the Trust move forward with a timber sale if the exchange doesn't pass.
Slenkamp repeatedly said that the timber sale hasn't even been designed yet – although it would definitely be selective harvest by helicopter — and then there would need to be a "best interest" decision, followed by a 30-day public comment period.
But, the Trust's comment process is different from what people might be used to. Menefee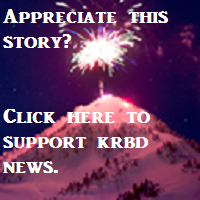 said comments will only make a difference if they address the Trust's primary mission.
"What we do, we don't actually ask, like you would if you were the Forest Service or the state, saying what you think is in the best interest of the public? That's not actually by statute and regulation what we're supposed to ask. We actually ask, 'Is what we're doing the correct thing for the Trust?'" he said. "If you can show something that's better – better financially for the trust – or some other thing like that, that very well may change it."
One potential concept that's been suggested – and would be financially beneficial to the Trust — is for the communities to purchase the land from the Trust, or at least purchase the timber rights.
Ken Arriola notes that the Trust Land Office expects to make about $5 million if it logs Deer Mountain and the site in Petersburg.
"This community has spent far more than $5 million on a lot of other stuff," he said. "I don't know if that's an accurate figure or not, but we could buy this timber on Deer Mountain and it could be ours in perpetuity. So, governing bodies, citizens of Ketchikan, if this really means that much to you, let's get with it."
Menefee said the Trust Land Office is open to options, including a land sale. The price tag would be negotiable following an assessment.
There's so much that we couldn't fit into this summary. For those who couldn't make it to the meetings, we posted audio below from the entire two-plus-hour event at the Ted Ferry Civic Center.