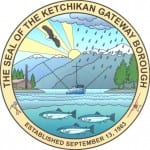 The Ketchikan Gateway Borough Assembly voted unanimously Friday afternoon to hire Ruben Duran as the new borough manager.
It didn't matter whether Duran got the job or not. He was coming to Ketchikan anyway.
During his interview with the Assembly, he said the long hiring process provided plenty of time to get to know Alaska's First City.
"After doing our investigation of the community, my wife and I decided, we're just going to relocate," he said. "We're going to be here Dec. 11th while we go through escrow on our house. We sold our house already. This six-month process has brought us to the point where, we want to live here. This is a real nice place."
Borough Manager Dan Bockhorst announced his plan to retire about a year ago, so the Borough Assembly was able to take its time finding a replacement. Members formed a committee to narrow the list of potential candidates to three, and those three were brought to Ketchikan this week for interviews by borough staff and a community panel, along with a community reception.
The candidates then were interviewed by the Assembly in a day-long special meeting.
Duran is currently the city manager for the City of El Centro in southern California. He's had that job since 2003, and previously was the city manager in Oroville, California. Before that, he worked for city governments in Arizona.
The other two candidates were Robert Grumbach, the development services director for the City of Medina in Washington; and Scott Albert, the director of operations for the Stonebridge Ranch homeowners association, a community of about 9,000 homes in McKinney, Texas.
During his interview with the Assembly, Duran said that as city manager for El Centro, he focused on maintaining an ongoing conversation with community members.
One method was through regular surveys on how different services were working. Duran said he also met regularly with business owners, and following one of the earlier meetings, the city reviewed its regulations.
"We looked back and found some of these regulations had been enacted several decades ago, and they had no real value to the community and wasn't achieving anything even the elected body wanted," he said. "So, we went back and revised them, and continued to streamline them. It wasn't one act – it's a continuing adjustment of the work we do to assure that we're meeting not only the elected body's desires, but also what the community is looking for."
Duran was asked by one Assembly member whether he had ever been part of an emergency response, and he recalled a magnitude 7.2 earthquake that hit El Centro in 2010, destroying about 200 homes.
"I had to crawl out of our own house because bookcases had fallen over, and I literally showed up in my shorts and sandals at the police station," he said. "Our emergency operations center was damaged, so we couldn't use that. We were outside on the lawn."
Duran said they mobilized city staff and sent them out to coordinate first-response efforts. He later had to work with state and federal emergency assistance programs to make sure services came back on line in a timely manner.
At the end of his interview, Duran said he appreciates the borough's process for choosing a new manager.
"I've been through processes, and this is the most inclusive process I've been through, and this would be my fifth organization. I've interviewed for other ones over my career," he said. "You had staff involved – that rarely happens. In fact, that never happens. You had the community involved – that rarely happens. And that you're televising this – that just doesn't happen."
The day-long Assembly interview process was televised on public access channels, and streamed via the borough's website.
When it came time to vote, Assembly members filled out secret ballots with their top choice. Duran had a clear majority, and the Assembly then voted to make that choice unanimous.
The Assembly chose a subcommittee to negotiate contract terms, and about 45 minutes later, came back with an agreement.
Assembly Members voted unanimously on a five-year contract for Duran, with a salary of $110,000 a year. That includes a 10-percent annual bonus as an incentive to remain in the position.
The contract is at-will, so either party can terminate it at any time, but the five-year limit provides a time frame to revisit the terms.
Duran is due to start his new job on Dec. 19.