The Ketchikan Gateway Borough Assembly on Monday will vote on a motion that would automatically add language to all votes related to state marijuana-license application reviews.
Similar to alcoholic beverage licenses, the Assembly reviews state marijuana license applications and can protest their issuance under certain circumstances, such as the applicants' failure to pay local taxes.
But, unlike alcohol, marijuana is still illegal under federal law. So, some Assembly members want to add language in hopes of protecting the borough. The language states that the borough doesn't endorse or condone activities prohibited by federal law.
Assembly members approved adding that language to two license application reviews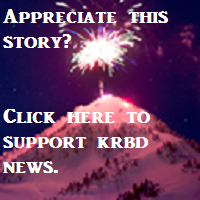 during their last meeting. If Monday's motion is approved, the language will be added automatically to all future marijuana business license applications that come before the Assembly.
Also Monday, the Assembly will vote on accepting a $502,000 state grant to offset operating and maintenance costs at the Ketchikan International Airport. The airport is owned by the state, but managed by the borough.
Monday's meeting starts at 5:30 p.m. in Borough Assembly chambers at the White Cliff building. Public comment will be heard at the start of the meeting.