Ketchikan Youth Initiatives has completed Phase One of the Youth Community Center. A portion of the building on Park Avenue is now open for art sales, and assistance. The organization is working to have substantial completion of the building done by the end of December in order to receive grant funding.
The goal for the Youth Community Center is to create a youth-directed, adult-mentored, multi-use facility that provides healthy activities and workplace skills. KYI administrator Bobby McCreary says the organization decided this summer to develop the project in phases. She says Phase One was a 750-square-foot street level section of the building. That phase is complete.
"And the goal for that was to get the front of the building open, so that people could see that we existed, so we could reach out to people walking by. So we'd have a place where kids could start getting involved."
Phase Two involves substantial completion of the building to allow occupancy. McCreary says, in order to receive a $98,000 grant from the Rasmuson Foundation, that phase must be done by December 31st.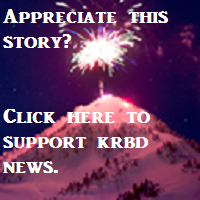 "That's an aggressive goal. We're going to do it. It'll be great. That means the remainder of the 3,660 square feet is available – there are some offices, some work space."
To receive the grant, KYI needs to raise $16,000 before the deadline. But McCreary says right now they aren't looking for cash donations, they are looking for the equivalent in volunteer labor and supplies.  AJ Pierce is a KYI board member with skills in construction, pipe-fitting and mechanics who is helping with the project.
"Just asking people if they want to be able to give an hour and come down with some skills. Maybe they can paint. Maybe they can put drywall up. Maybe they have some cabinets that they want to put on Sale Cycle (Facebook page) but we can maybe have those as a donation to put toward the non-profit."
McCreary says they need to complete the walls, floors, bathrooms and electrical work, add insulation, and wire a platform lift. She says this will allow them to receive the grant and bring the building up to code.
"Phase Two gets us to the place that the building inspector and fire marshal can say, 'You are allowed to operate all of this building. You have substantially completed it. You've made it safe.' It might not have the stair treads on it, we can just paint them. We can take it to the place where it looks good, it's clean, we can use it, and then Phase Three is adding finishing touches."
With completion of Phase Two, McCreary says the doors will be open to provide leadership and skills training, as well as a performance and activity space.  Pierce says the 'finishing touches' include a kitchen, shower and laundry facilities for youth in the community.
"Some of them need a shower. Some of them need to wash their clothes and get a really good hot meal. And have a safe place to be able to harness that creativity, whether it's a skill with a trade or a skill in art. That's the direction and the mission."
McCreary says certain work has to be completed by the contractor, but there are many tasks others can help with. She says they especially need help hanging drywall. Pierce says a group of volunteers dropped by with no knowledge of how to hang drywall and received a crash course.
"And we knocked out what we needed to knock out in just a couple of hours, and it was great. A couple of pizzas came down and we finished it. They don't really have extraordinary experience, but they were willing to put their labor into something and learn something, and we were able to teach them something, and get something done as well. So it was really productive all the way around."
KYI plans to hold weekly work parties through the end of December.
More information can be found on the KYI website www.kyiyouth.org/ and Facebook page https://www.facebook.com/KetchikanYouthInitiatives/.
The Phase One Work Shoppe, located at 632 Park Avenue, is open Monday through Friday from 2 to 6 pm.