The US Forest Service has identified three areas on Revilla Island that will be open for family Christmas tree cutting November 24th through December 24th. The areas are adjacent to the Brown Mountain and Harriet Hunt Lake Roads, and the Lower Silvis Lake area, and are identified by signs and ribbons.  Brock Martin is the supervisory forester at the Ketchikan-Misty Fiords Ranger District.
"We ask that all trees that are taken for Christmas trees be at least 20 feet away from the road's edge, they leave a stump within six inches of the ground, and that we do not cut trees within 50 feet of a stream or within 25 feet of a muskeg pond."
Martin says there is a limit of one tree per family, and trees cannot be used for commercial purposes.  Tall trees should not be cut just for the top. Harvest is allowed only in designated areas of the National Forest, and not from adjacent private property. Martin also offers some safety tips.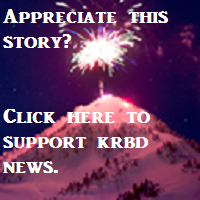 "You want to take a look at what's around the tree and maybe any over-head hazards that may be present, and make sure you have a nice, clear path for that tree to fall. Dress for the weather. It's getting to be winter around here in Southeast Alaska. Make sure everybody's dressed appropriately and warmly. Stay hydrated. And make sure you drag or carry your Christmas tree from the woods to the road."
Contact the Ketchikan-Misty Fiords Ranger District at 225-2148 for more information.  A link to maps and additional guidelines is posted with this report on our website, www.krbd.org.
http://www.fs.usda.gov/detail/tongass/home/?cid=FSEPRD525314