A 43-year-old Ketchikan man faces multiple felony charges after Ketchikan Police Department officers allegedly found methamphetamine, prescription pills and a loaded gun in his home.
According to a news release sent Wednesday, police served a search warrant at Shayne Smith's home on Nov. 15th following an ongoing drug investigation.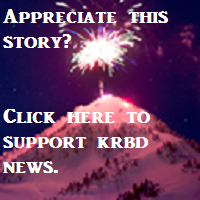 Police say they found about 11 grams of meth and a syringe loaded with the same drug, prescription pills, a loaded handgun and $832 cash.
Smith was charged with four felony drug counts, and two counts of weapons misconduct. He was indicted by a Grand Jury on Wednesday. His next hearing is Nov. 28th in Ketchikan Superior Court.
Smith remains in custody, with bail set at $15,000.
KRBD does not identify suspects in criminal cases until they have been indicted by a Grand Jury.