Ketchikan Senior Services is moving to a new location.  On November 18th, a lease agreement was signed with the Tlingit-Haida Regional Housing Authority. Programs will move from the Water Street building to the Saxman Senior Center in mid-December.
Marianne Mills is program director for Southeast Senior Services.
"Well we had an opportunity to move to a brand-new, accessible facility with ample parking, and also to join in a partnership with the Organized Village of Saxman to provide additional funding for senior services."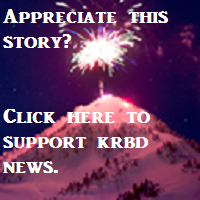 Mills says the new building has an elevator and is fully accessible. It also includes a commercial kitchen, dining room and offices. She says all of the services currently available will continue at the new location.
"We operate the seniors' meal program, and transportation and case management programs out of that facility, and so we'll be moving those services out to Saxman."
Services are available to senior citizens, age 60 and older, living throughout the Ketchikan Gateway Borough.
Mills says there will be no interruption in transportation services, but the meal program will close December 16th and reopen at the new facility on December 19th. She says they are also looking for help moving. Anyone interested in helping can contact site manager Emily Fuller at 225-6578.