Ketchikan resident Sabra Simmonds spent the past two years living and working in Afghanistan. At a recent presentation, she spoke about what Afghanistan is really like – the political climate, the people, and day-to-day life – experiences beyond what you might see on television. In the second part of a series, we look at food and shopping in the Middle East.
Sabra Simmonds lived in Afghanistan's capital city, Kabul, serving as communications advisor to the Afghan Minister of Agriculture. She shared her experiences to a crowd of about 70 people during a presentation at the Ketchikan Public Library in mid-November. Joining, via Skype, was retired Lieutenant Colonel Khoshhal Sadat who served as an Afghan liaison to the US military during the command of the International Security Assistance Force.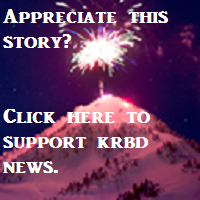 One of many topics Simmonds and Sadat discussed was eating and shopping in Afghanistan.
Simmonds says the diet is based on the country's major crops – wheat, barley, maize and rice. She says 80 percent of the economy comes from the agricultural sector. Simmonds says all produce and grains grown in Afghanistan are organic.
"…because they missed the chemical revolution. It was during some of the wars, and they also couldn't afford it. So by virtue of that, you are guaranteed that everything is fresh and nice."
She says bread bakeries are common sites on every street.
"…more prevalent than the typical 7-11. And a lot of that was to just increase employment. You literally see these everywhere in the cities. It's different in the provinces and in the countryside. But if you can't find your bread…something's wrong…you're lost."
There also are many small produce stands with chickpeas, dried fruits, vegetables and fresh fruit. Simmonds says the produce in Afghanistan is delicious.
"Some of the biggest carrots I've ever seen. This is a red carrot on the left.  And Ketchikan, this is what tomatoes are supposed to look like (laughter). I've told my mom, 'No more tomatoes!' because it's just sad."
Simmonds showed a video of Sadat cutting a mango. The method he used removed the center stone cleanly, and the audience was awed.
"Sadat…you can use your mouth or you can use a knife.  Like this. Same trick." Simmonds…"And there you go." (audience reaction). Simmonds…"Kosh, I think you should start your own cooking show." (laughter).
When eating, Simmonds says you sit on the floor and use your hands. She says meals are very simple.
Simmonds says in addition to bread and produce stands, Western foods, such as canned goods, are also available. She says there are two major grocery stores.
"One is called Finest and the other is Spinneys. Tesco is actually a British brand, the equivalent of Safeway I guess.  So you get your baked beans, your all-day breakfast. You can get FroYo. They have chunky peanut butter.
Simmonds says choices, however, are limited.
"I think why everything is so normal to me is, perhaps, a product of growing up in Ketchikan where you get used to if things are here, and if they're not?  You look at Safeway, you look at A&P, you look at Tatsuda's, and if you can't find them in any of those places, you have to adapt or change your meal."
Simmonds shared stories about holiday dining and food storage. Though items may be harder to find or unavailable, she says sometimes it's nice to not have a lot of choices.