The Southeast Alaska Discovery Center will start its wintertime Friday Night Insight programming on Jan 6th, kicking off the season with a "Musical Science Hour" presented by Ray Troll and the Ratfish Wranglers.
The weekly Friday Night Insight programs start at 6 p.m. in the center's theater. In addition to the Wranglers, the series will feature artist Mary Ida Henrikson, students from the Ketchikan Indian Community's Tribal Scholar Program, and Bill Tatsuda, talking about his family's 100-plus years in business here in Ketchikan.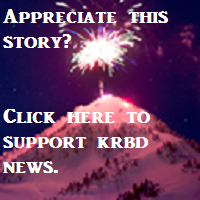 A special presentation is set for Thursday, Feb. 16th, when the Discovery Center's theater will be dedicated in honor of Alaska Native civil rights leader Elizabeth Peratrovich.
Also starting Jan. 6th, the Forest Service-run Discovery Center will be open each Friday from 10 a.m. to 7 p.m., with free admission. In addition to exhibits showcasing Southeast Alaska's history and resources, the center offers films on the science, nature and history of Alaska and beyond, available for screening in the theater by request.
Here is a PDF with a full schedule of the Discovery Center's presentations: Winter 2017 Schedule of Events SEADC