University of Alaska Southeast Chancellor Richard Caulfield was in Ketchikan this week, visiting with staff, faculty and students. Caulfield and UAS Ketchikan Campus Director Priscilla Schulte spoke about financial issues facing the university system, and opportunities for the Ketchikan campus.
Caulfield has been chancellor since May of 2015. He was in the First City on a regular visit to the UAS Ketchikan campus.
Caulfield says earlier this year, University of Alaska President Jim Johnsen implemented "Strategic Pathways," an initiative to streamline the university system statewide, reduce the budget, and improve opportunities for students. Caulfield says all academic and administrative programs are under review.
"And already, the first phase of 'Strategic Pathways' has focused on our School of Management and its offerings in Southeast, and business programs elsewhere in the state, and also teacher education. And those are two prominent ones that are on the radar screen right now."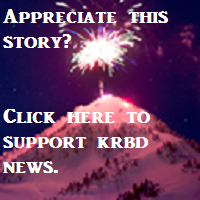 Caulfield says two online degree programs will continue, but under a different school based out of Juneau. He says this will eliminate one dean position and streamline costs. The degrees are Bachelor of Administration and Masters of Public Administration.
Caulfield says the Board of Regents is meeting mid-December to consider a proposal to have a single college of education, and a single dean, across the state. He believes the board will approve that proposal.
"The question has been, 'Which University – Fairbanks, Anchorage or Southeast – would take the lead for the state in teacher education?' And the president's put forward a recommendation that it be in Fairbanks, even as we would still have faculty in Anchorage and in Juneau serving Southeast Alaska."
Ketchikan Campus Director Priscilla Schulte says many UAS Ketchikan students pursuing bachelor degrees want to go into teaching. She hopes whatever changes are made, students can easily move from their bachelor's program into teacher education.
"And we want to make sure that it's a very streamlined process, as it is now at UAS. They can go from our bachelor's programs into the Master of Arts in Teaching. We have quite a few students who do that."
Caulfield says a focus of "Strategic Pathways" is teacher education and retention. He says about 900 teachers are hired in Alaska each year, but only about one-third are educated at the University of Alaska.
"Two-thirds are imported from out of state. Inevitably that's a good thing. We'll get some new ideas and so forth. But the president has said, in his mind, it would be great, by 2025, if, say, 90 percent of the teachers teaching in Alaska schools were educated here in the state – people who know and love the state. They know our communities. They know our kids."
Caulfield says he wants Southeast students to have continued access to quality teaching programs so that goal can be achieved.
Caulfield says maritime and fisheries programs will continue to be important fields. The College of Fisheries and Ocean Sciences is based in Fairbanks. He says there are plans to expand undergraduate fisheries education in Southeast.
"And my hope is that we'll see a steady stream of Southeast Alaska students wanting to enroll in our Fisheries and Ocean Sciences program. They can start here in Ketchikan. They can get their basic courses here or in Sitka. Some of that they could do online. But they would, in the end, need to go to Juneau, probably, to finish up their degree."
Caulfield says other opportunities for growth are in the marine trades. He says the university has had good working relationships with various employers, including Vigor Industrial and the Alaska Marine Highway, and he wants to see those relationships continue and expand.
UAS will be upgrading the regional maritime training center in Ketchikan next year. Schulte says there will be a remodel of the building on Stedman Street. She says the welding and diesel labs will be upgraded, along with facilities for the marine simulator.
"We've upgraded it with new software, new computers, but we need more space to put them. All of this will allow us to develop our simulator lab for marine transportation. (It will be) much more upgraded, and some of our existing welding facilities were build 20 to 30 years ago."
She says the bids will go out in January, and work should start in May. Schulte says the facility upgrades will allow the university to do more in the marine trades.
Caulfield's visit to Ketchikan was brief. He says he periodically visits each campus, and looks forward to attending the next commencement ceremony.