Two people suffered minor injuries Saturday when the Chevy Blazer they were traveling in skidded on ice on South Tongass Highway and ended up in a creek on the other side of the road.
According to the online Alaska State Troopers dispatch report, the accident was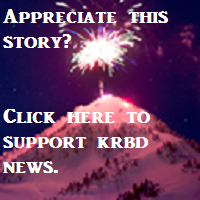 called in at about 7:30 p.m. An 18-year-old man was driving the vehicle southbound when it hit some ice on the road. Troopers report that the vehicle skidded across the highway, went off the pavement, hit a rock, rolled down an embankment and ended up in a shallow creek.
The driver and one passenger suffered minor injuries. They were taken to PeaceHealth Ketchikan Medical Center where they were treated and released. Two other passengers were not injured. Troopers report that all occupants were wearing seatbelts.
The Blazer was heavily damaged and was towed from the scene.