There were no injuries from a house fire on Deermount Street Monday morning, caused by a resident trying to thaw some frozen pipes.
Ketchikan Fire Marshall Chris Grooms said the fire at 331 Deermount was called in at about 9 a.m. Monday.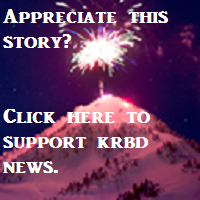 "Well, the initial call was for smoke coming from an outlet. Shortly thereafter, we got a second call for smoke coming from several outlets,"he said. "Smoke was showing when the fire department got there. Mutual aid was requested for North and South Tongass (fire departments) for a structure fire. We found later that the fire was very small, and underneath the house and was caused by inappropriate methods of thawing pipe."
Grooms wouldn't elaborate on the method used, but said it essentially created too much heat.
"If something used to thaw pipes is too warm, it might start something smoldering that you don't even notice," he said. "The best way is to either call a plumber, or use something like a hair dryer that's got less heat to it."
There were some flames when firefighters arrived, which were quickly extinguished. Grooms estimated damage to the home at about $5,000.