An investigation into Ketchikan High School's activities program shows no violations of federal Title IX regulations. But the report does indicate that written policies have not been reviewed and implemented by administrators, and that activities are "significantly underfunded," and to some degree mismanaged.
Those conclusions are detailed in a 300-plus-page report  — the result of an investigation that started after a group of parents complained in late September about what they considered unequal treatment of Ketchikan High School's girls' volleyball team. That report will be discussed during Wednesday's Ketchikan School Board meeting.
Title IX prohibits gender discrimination for any federally funded educational program or activity. The investigation found no inequities in how boys' and girls' teams are treated, or in how male and female coaches are treated. But, the report still recommended that the high school review and update how it distributes activities funds.
There were some recommendations on improving the overall activities program, including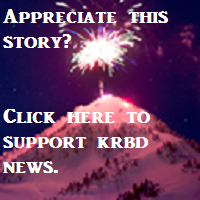 an annual review of policies and procedures; and annual meetings with coaches, administrators and parents to go over those policies.
There also were recommendations for updating specific procedures, such as a schedule for replacing or recertifying football helmets; ensuring that medical kits are fully stocked throughout the season; reviewing policies for student housing; and providing medical staff at athletic competitions.
The report also recommended ways to improve financial management. They include multiple administrators signing off on activities-related purchase orders; sticking with a uniform-replacement schedule that includes input from coaches; and reviewing coaching salaries to ensure equity.
And finally, the report recommends "significantly" increasing district funding for activities to help decrease the amount of fundraising various programs must accomplish each season.
In his report to the School Board, Superintendent Robert Boyle writes that Kayhi Principal Bob Marshall has requested an ad hoc committee to provide input and help implement the report's recommendations. Marshall suggests that the committee include School Board members, coaches, students, community members and Kayhi administrators.
Also Wednesday, the School Board will vote on a $48,000 contract with R&M Engineering to start work on Houghtaling Elementary School site improvements. That work is intended to reduce congestion around the school.
Two executive sessions also are scheduled for the board to discuss contract negotiations with administrative assistants and with the International Brotherhood of Electrical Workers.
Wednesday's School Board meeting starts at 6 p.m. in Borough Assembly chambers at the White Cliff building. Public comment will be heard at the start and end of the meeting.