Last week, the state Marijuana Control Board approved two retail marijuana licenses within Ketchikan city limits. One of those, The Stoney Moose, is basing its business plan on a regulation that hasn't yet been finalized. But, the owners are confident enough to move forward while the state board continues to consider on-site consumption.
The lights didn't work, but at least the heat was on inside what will be the Stoney Moose as co-owner Mark Woodward leads the way through a maze of building material.
The space is a former restaurant that the building owner is using to store a bunch of stuff as he continues to improve a jazz club next door.
"In about a week, everything in here will be gone except for the display cases that we'll use – we'll use these for the store," he said. "But everything else in here is going to be out."
We're in the downstairs part of the building now, and while we came in through the street entrance, that's not going to be the entrance to the cannabis club. Woodward said customers instead will enter through the alley next to the building.
That accomplishes two goals. One: It reduces the likelihood of lines forming on the busy sidewalk; and two: It adds to the "speakeasy" atmosphere that Woodward and his business partner, Eric Reimer, hope to create.
"Because we think that matches the atmosphere of this neighborhood — red light district, historic Creek Street," he said. "So, we'll have the security guard sitting right here (in the alley), and you notice there's no latch on that door, so what he'll do is he'll knock like the special code knock and that'll allow you access."
The building is on Stedman Street, but Creek Street — with all its former brothels turned tourist shops — is right across the creek. And, Woodward said, the view of the creek is a big reason why he believes the cannabis lounge will work.
Upstairs is where you really see that money view. It's a clear, cold, winter day and all the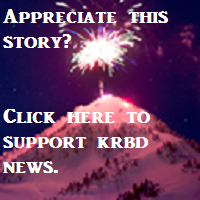 colorful buildings lining the creek glow in late-afternoon light.
"This to me is, I think, the area of the lounge that sets this store apart from any other in the world," he said. "That is, you have an area where you can consume legal cannabis in a controlled and safe setting, and you're looking at an active salmon stream. This looks like Hollywood."
The plan is: Customers show their IDs at the alley door to gain entry. Show them again to a host or hostess, who escorts them to the retail counter and arranges seating; IDs are shown a third time – just in case – to the salesperson at the retail counter.
After they've purchased cannabis, customers are taken to their seats, either downstairs or upstairs, smoke their joint or consume their edible product, and within a certain time frame, leave. Woodward said the time limit will help limit consumption.
"You'll essentially get your table for a half-hour block," he said. "Once your block is done, most likely, we think around 70 percent of the clientele will are just going to get up and walk out the door. Even before that."
If customers want to stay longer, they can purchase some more cannabis and stay another block, but there is a limit to how much they can buy in one visit. Proposed on-site consumption regulations call for a limit of 10mg for edibles or up to a gram of smokeable weed.
Woodward said all those limits should help alleviate concerns some residents have had about "zombie-like" tourists wandering Ketchikan after smoking pot.
And, Woodward said, a lounge will make it less likely tourists will buy pot and then smoke it illegally in public.
"We are looking at estimates of 400 people – cruise ship visitors – a day (who) want to consume cannabis," he said. "So, two things are going to happen: Either they come into this lounge where it's controlled, where they're not walking around, going on Schoenbar Trail or whatever and you have that controlled. Or, it doesn't pass and you have people walking everywhere. Do you want to write 100 tickets a day?"
The Stoney Moose's business plan is based primarily on the on-site consumption lounge. But, there are plans for a small retail space where people can purchase cannabis to take home. That will be separate from the lounge, though, built on what's now a small open deck at the back of the building.
"It's the smallest out of everything we've seen so far, and that's for a reason. We think we're going to be serving the people in the downtown core rather than a ton of Ketchikanites, although we will do both. Because Jason is opening up a store," he said, referring to Jason Kolanko, who also received a state license approval and is planning a retail-only store on Water Street.
Woodward also mentioned Cannabis Corner, currently under construction, which will be outside of city limits on the north end of the road system. He said those shops will adequately serve the needs of most local customers.
"And so, we've kind of told those guys: That's our focus: The lounge," he said.
Woodward and Reimer expect to open this spring, pending state approval of on-site consumption regulations. Woodward hopes local government officials – and other cruise-ship cities throughout Southeast — will support those regulations, even if they don't approve of legalized marijuana. Because: "It's here. Take the question of the morals out of it and just realize it's a product that going to be here and it's going to be served, so how much control do we want to have on that?"
Marijuana is still illegal at the federal level, but the federal government so far has been lenient with states that have legalized it, as long as those states have good regulations in place.
Alaska's on-site consumption regulations won't be finalized this year. Public comments on those draft rules will be accepted through Jan. 13. Here is a link with more details:  https://aws.state.ak.us/OnlinePublicNotices/Notices/View.aspx?id=183688