Anyone who has driven through Ketchikan's downtown recently probably has noticed construction activity at the city-owned Centennial Building – home to the Tongass Historical Museum. The main floor of that almost 50-year-old building is undergoing a big renovation, allowing the museum to expand into the large space that used to be the Ketchikan Public Library.
Ketchikan's Centennial Building was built for Alaska's centennial in 1967, and not much was done with it between then and just a few years ago.
After the library moved out in 2012 into its own space, the City of Ketchikan has been gradually making some much-needed upgrades  – a new roof, electrical systems, etc.; but until this fall, the big empty space where the library used to be was primarily storage.
This renovation will change that, and much more.
Tim Whiteley of Welsh Whiteley Architects is showing me around the first floor while Dawson Construction crews work. Interior demolition was completed a while ago, and now they're framing in the various spaces.
After coming in the front door, people will head left, but not without a quick taste of what's inside. As soon as visitors enter, he said, "opposite from the doors, there's going to be a flexible exhibit space that we're envisioning a major piece will be in. It can change every now and then. I've always envisioned that big Fresnel (lens) light from the lighthouse that's maybe illuminating and drawing people in to some degree."
From the vestibule, visitors will be directed to a welcome desk, close to where the library's main desk used to be.
Senior Curator of Programs Anita Maxwell, who joined us, said the museum's curator of exhibits, Steven Villano, has some special plans for that desk. They're talking to a Ketchikan mill operator about getting locally produced wood.
"So, he's doing some really cool things with kind of mimicking a bentwood box on the corners, but really having those locally-sourced resources and materials, which is a really important part of our intent of telling Ketchikan's story. That could even be in the welcome desk," she said.
Behind the desk are a couple of small offices. Between the desk and the stairwell leading to the basement level will be a flexible exhibit space.
"That's really open for whatever you want," Whiteley said. "It could be a craftsperson doing cedar basket weaving or carving."
"It also gives us the opportunity if there's a – we really feel a museum is a great place for community discussions," Maxwell added. "So, if there's something going on in the community and we want to have a small exhibit that's relevant to that conversation, this small space allows us to have that — rather than having to change the rotation of the larger exhibit spaces — it still allows us to have that small exhibit that's relevant to what's going on in the community right now."
Part of the space that used to be the main exhibit space for the museum will continue to be a gallery. It's smaller, though, and will be used for temporary or rotating exhibits.
The reason it's smaller is because some of that space was taken for exhibit prep– something the museum didn't have on site before. Maxwell said that's going to make things much easier.
"Previously, we were using the workshop at the (Totem) Heritage Center, which meant you
had to wait for a dry or reasonably not-windy day to move the materials from one spot to another," she said. "And being able to actually create the foundations of the exhibit on-site is just such a cost savings. Not going back and forth, having all your tools in one place."
And then there are the bathrooms, which are definitely taking up more space than the previous ones. The old restrooms were tiny, and not ADA compliant. The new ones are up to code, follow ADA requirements and will serve the needs of the museum's many summertime visitors, as well as local residents who need to, well, "go."
They're expensive, estimated at about $475,000. And some residents have criticized the cost of those bathrooms. But, Whiteley said, that's just what institutional-grade restrooms cost. There's more labor involved than elsewhere in the building, and the fittings and finishes have to be up to specific standards.
"It's not something you can just go to your hardware store and get. We want them to last and be durable," he said. "Basically, the square footage costs for a bathroom is probably four times what the rest of the building costs, and that's just a good rule of thumb."
Part of the renovation work is paid for through the community's share of state cruise passenger head taxes. Maxwell said it'll be worth it because once the restrooms are done, the museum will not have to turn away people with disabilities, including some of the many cruise visitors who arrive in the summer.
"I can't tell you over the course of a summer, how many people would come up in a wheelchair … At some point, it just doesn't work," she said. "That's really a basic right. If we're going to welcome a million people into our community each summer, it feels right to give them a clean, safe restroom to use."
Another new offering the museum will have is a special room for programs. Before, the museum provided programs within the exhibit space.
"Which, we'll continue to do, because there's an intimacy that's interesting about that," Maxwell said. "But, for school field trips, just to be inviting a classroom of kids in and have them have a place to dump their coats and backpacks and sit on the floor, where visitors aren't walking around them."
And a space for messy crafts that won't threaten the exhibits.
Now, we've come to what eventually will be the museum's permanent exhibit. There are some windows in there, which is "bad" for an exhibit – light damages artifacts. And the walls do a little jog near the ceiling because of the building's mansard-style roof. To block the light and provide a flat wall to hang displays, they're building new walls a couple feet in from the real walls.
"And then it'll have plywood under the sheetrock, because they have the need to mount things on the wall, and trying to find a stud is difficult or maybe (it's) not in the right space," he said. "So, having a plywood wall allows them to mount something almost anywhere they want. And then they can get behind here. It's a little tight, but you can shimmy behind here and do all the attachments you need."
In other words, there will be a secret passageway behind the walls of the permanent exhibit.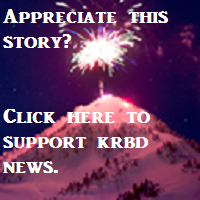 Not all the windows will be blocked, by the way, because the building's view of Ketchikan Creek is an important asset. They plan to use room dividers to protect the exhibit space from the light, while still making that view available.
The renovation also includes new slate floors throughout the main floor, a small kitchen/break room, and additional storage for the museum's collection.
The overall project will cost an estimated $1.1 million, and is on track for completion by late March. The museum will open in May during the annual Celebration of the Sea Artwalk, with a display in the temporary exhibit space.
The permanent exhibit will take another year. Maxwell said the museum will host some public forums this coming February to help staff plan that display.