The City of Ketchikan's Port and Harbors Department has released the draft 2017 cruise ship calendar, along with a projection for a record number of cruise visitors next year.
Port and Harbors Director Steve Corporon reports in a memo that the projected passenger count shows Ketchikan breaking the million-visitor mark in 2017. We've been close to a million, but not quite there, for the past several seasons.
The 2017 calendar shows the first cruise ship arriving May 4, and the season will last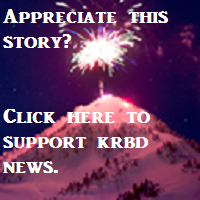 through the end of September.
According to Corporon, the busiest days at the height of the season again will be Mondays, Thursdays and Fridays, which typically will have between four and six ships. Other days of the week will be slightly slower, with two to four ships.
New cruise ships to the Alaska market include the Emerald Princess, the Eurodam, and the Seabourn Sojourn.
The Port and Harbors Department has scheduled a public meeting to hear input on the draft schedule and berth assignments. That's set for 1 p.m. Jan. 11th in City Council chambers.
The draft schedule is posted on the Port webpage: http://www.ktn-ak.us/port