Gov. Bill Walker's newly-released operating budget requires no changes to the Alaska Marine Highway's scheduled sailings.
Walker's spending plan for the fiscal year beginning in July proposes a $2.8 million, or 2 percent, budget cut.
Spokesman Jeremy Woodrow said that came as no surprise to ferry schedulers.
"The proposed FY18 budget that was released by Gov. Walker reflects the ferry schedule that was proposed and issued and is up for reservations currently," he said. "So the passengers and customers can expect to see ferry service unaltered through the summer season."
When Walker released his spending plan on Thursday, he began a months-long process of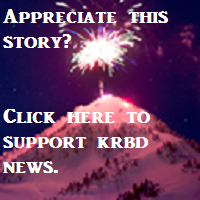 legislative debate. Final budget numbers won't be known until the end of the session.
Woodrow said additional cuts would reduce future sailings.
"Those changes would likely be reflected in next winter's ferry schedule or the following summer's schedule, which does contain part of fiscal year 2018 in it," he said.
Budget documents show the proposed cuts will eliminate about 180 marine highway jobs. That's about a 14 percent reduction, comparing full-time equivalent positions.
Woodrow said those jobs were assigned to the ferries Taku and Chenega, which are no longer being used.
"Most of those are unfilled," he said. "There's a few of them where there's actually positions staying. But there's enough vacancies currently within the fleet for people to move into different positions on other ships."
The marine highway operates nine ferries serving 35 communities in the Southeast, Gulf of Alaska and Southwest parts of the state. That doesn't include the two ships taken out of service.