Ketchikan Superior Court Judge Trevor Stephens will continue to serve as the presiding judge for Alaska's First Judicial District, covering Southeast.
According to an announcement from the Alaska Court System, Stephens was reappointed to the position this week by Alaska Supreme Court Chief Justice Craig Stowers.
Presiding judges have administrative obligations on top of their regular judicial duties, including the assignment of cases and reviewing budgets. Presiding judges are appointed to one-year terms over a calendar year.
Stephens, who was born and raised in Ketchikan, has been a Superior Court judge here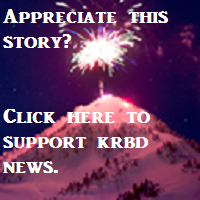 since 2000. Before that, he worked in private practice, as a public defense attorney, and as Ketchikan's district attorney.
Three other Superior Court judges were named presiding judges for the other Alaska judicial districts. They are Judge Paul Roetman for the Second Judicial District; Judge William Morse for the Third; and Judge Michael MacDonald for the Fourth.