Area residents who love a white Christmas will be happy to hear they'll probably get one – but not until that afternoon.
Wes Adkins from the National Weather Service in Juneau says forecasters there are watching a system that should be bringing warm, moist air on top of a cold break, which generally leads to snow.
"We're looking for the front to arrive just offshore of the panhandle Christmas Day and steadily move eastward," he said. "So, potentially, Christmas afternoon into that evening, we're looking at a potential snow event."
That event would affect most of southern Southeast, including Ketchikan, Metlakatla and Prince of Wales Island.
The snow could last through midnight Sunday, and Adkins says it then should switch to rain. It's still a little early to give an accurate prediction, he says, but he wants people to know before the holiday weekend that potential bad weather is on the way.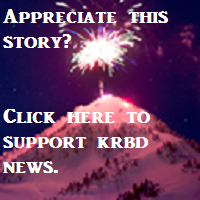 He says the total snowfall could be anywhere between one and four inches. While that's not a lot by some standards, the upper end of that is more than Ketchikan usually gets in one storm.
"Our winter storm watches and winter storm warnings are derived from known impacts, and we have lower thresholds for the southern panhandle, with the exception of Hyder, than the rest of the panhandle, because we don't get as much snow down there," he said.
The National Weather Service has not, as of Friday, issued a winter storm watch or warning for the area. They've instead issued a cautionary statement that significant snow is "possible" on Sunday.