Pot continued to be a hot topic in the City of Ketchikan this year, the borough lost its education funding lawsuit on appeal, and Deer Mountain remains under threat of logging.
Here's a look back at just a few of the top stories of the past 12 months.
The City of Ketchikan started 2016 with a debate over whether to temporarily ban retail marijuana within city limits, and that debate continued in one form or another through late spring. The majority of citizen comments were consistently and overwhelmingly opposed to such a ban.
January's vote on the outright ban was close, but it did not pass. A few months later, a new proposal was brought forward to ban retail marijuana within the city's downtown core.
That came from Council Member Dick Coose, who strongly opposed legalization of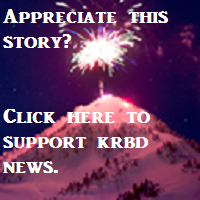 cannabis. He argued that pot shops downtown would lead to problems with the cruise industry, because marijuana isn't allowed on cruise ships.
But, Eric Reimer, co-owner of a proposed cannabis lounge on Stedman Street, said Ketchikan isn't the only port where pot will be available.
"People are getting on these ships in Seattle. People are getting on these ships in Anchorage," he said during a May meeting. "These are two places where cannabis is also available, right? So, if they wanted to bring cannabis with them, sneak it onto the boat, they could do it when they first come onto the boat."
The City of Ketchikan doesn't have zoning powers and can't impose a location-specific ban, so Coose's proposal didn't pass. But, the City did eventually limit the number of retail stores within all of city limits to two, and agreed to impose a 5-percent tax on marijuana retail sales.
Since then, two retail shops – both in the downtown area – have had their state business licenses approved.
In early January, the Ketchikan Gateway Borough saw somewhat of a close to its longstanding push for a change to the state's system of education funding – specifically the local contribution that is required only for boroughs and first-class cities with their own school districts.
The borough sued the state in 2015, challenging the required local contribution, and won at the Superior Court level. The state appealed, and in early January, the Alaska Supreme Court overturned that lower court ruling.
At the time of the ruling, Borough Manager Dan Bockhorst told the Borough Assembly that he was disappointed, and predicted that the ruling would result in additional costs to municipalities.
"There is very little doubt that we are going to suffer very significantly increased property taxes or other taxes as a result of this decision," he said in January.
The borough may have lost the lawsuit, but it is continuing its fight through other means. The Assembly recently sent a resolution to lawmakers in Juneau asking them to look into ways of making school funding more equitable statewide.
Also this year, the borough will bid adieu to Bockhorst, who is retiring at the end of December. Bockhorst and his wife plan to remain in Ketchikan. The new borough manager is Ruben Duran, who moved here from El Centro, California.
On Prince of Wales Island, Hydaburg's mayor, Tony Christianson, was named as the new
chairman of the Federal Subsistence Board. He's served on the board as a public member since 2012.
"I've really enjoyed being able to help rural members find the food they need, basically. That's been my interest all the time," he told KRBD in an earlier interview. "To make sure rural people are considered the priority and can access the resource to meet the demands of their needs."
In September, the Village of Kasaan celebrated the end of the five-year-long restoration of the Son-i-Hat longhouse, built in 1880 and last restored in the late 1930s. It is the last remaining traditional Haida longhouse in the United States.
A Prince of Wales Island man was charged with first-degree murder in August for the strangling death of 27-year-old Judylee Guthrie. The man, 27-year-old Albert Peter Macasaet (mack-uh-SAY-it), was arrested Aug. 9th after a 10-hour standoff with Alaska State Troopers. Macasaet remains in custody with a jury trial set for April.
Deer Mountain was threatened with logging in 2016 – a threat that's not over yet. In August, the Alaska Mental Health Trust Land Office announced that, absent a federal land exchange approved by mid-January of 2017, the TLO would move forward with logging Deer Mountain and a parcel of land above homes in Petersburg.
There was significant public outcry following the Trust Land Office's announcement. 8-26
"I think that the Mental Health Trust board and staff has shown utter disregard for the public process, arrogance and frankly contempt for the people of Ketchikan," said former City of Ketchikan Mayor Bob Weinstein, shortly after that decision was announced. Weinstein co-founded a group called "Save Deer Mountain" in opposition to the plan.
There also were concerns that the decision violated Open Meetings Act provisions, so there was a "do-over" vote by the TLO Board of Trustees. Their final decision on the matter then was delayed until its regular meeting of Jan. 25-26.
Also this year, Tatsuda's IGA celebrated its 100th anniversary as a family-owned grocery store in Ketchikan – owned by the same family for that entire time. The Tatsuda family also was picked to walk in the local Fourth of July parade as Grand Marshals.