Ketchikan pediatrician Dr. David Johnson has hung up his stethoscope as of Friday, Dec. 30th, officially retiring about 46 years after he first arrived here to practice medicine.
According to a PeaceHealth Ketchikan Medical Center announcement, Johnson came to Ketchikan in 1970 as an officer with the U.S. Public Health Service, and was assigned to the Indian Health Clinic. At the time, that clinic was inside Ketchikan General Hospital.
After a couple years at the Indian Health Clinic, Johnson left Ketchikan for a pediatrics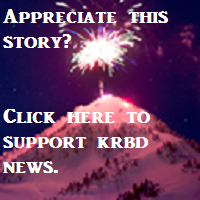 residency in Seattle. He returned in 1974 and worked for the privately owned Ketchikan Medical Clinic for 31 years.
Since 2005, Johnson worked part-time for the Callisto Clinic, which later merged with and became part of PeaceHealth.
Johnson's wife, Jenny, is a registered nurse and works in the Ketchikan hospital's outpatient surgery. According to the announcement, the Johnsons plan to "move south" by building a small waterfront home south of city limits.
Dr. Johnson says he plans to remain active on the hospital's community and foundation boards.