A new extended-stay hotel is set to open in Ketchikan early in February. Officials with the franchise say the hotel will focus on more than Ketchikan's tourism industry.
After a couple years of planning, site work and weather delays, construction crews are finishing up work on the 64-room My Place hotel on Ketchikan's Tongass Avenue, directly across from the Alaska Marine Highway ferry terminal.
Joe Dinger is vice president of development for Pacific Northwest My Place Hotels. He said barring any unforeseen delays, they're looking at a Feb. 9th opening.
A grand opening celebration will be on March 9.
Dinger said the mid-winter opening will give the hotel some time to ease into Ketchikan's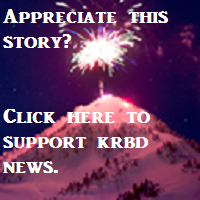 busy spring and summer season, which draws a lot of tourists to the area.
But, he said, the tourism market is not necessarily the hotel's main focus. Dinger said they've identified a need in the business community for an extended-stay model like theirs.
The location of the hotel – away from the tourist-heavy downtown core — indicates what kind of clients they expect to serve.
"I don't think I could have hand-picked a better location," he said. "We're two blocks from the hospital, we're half a block from the (ferry) terminal," and about a block away from the Vigor Industrial shipyard.
Dinger also noted that the hotel is right next door to a grocery store and close to a couple local restaurants.
"That's one aspect of the community that we pay very close attention to because the My Place has a limited offering as far as food and drink – we don't have a bar or restaurant associated with the hotel, so we rely on the local providers for all of that," he said.
As an extended-stay hotel, all the rooms include small kitchens. The pet-friendly hotel also provides laundry facilities and internet access.
But, Dinger said, while they're on the "wrong" side of town for most tourists, it doesn't mean they won't benefit from Ketchikan's tourism industry.
"I think when Ketchikan gets that busy in the summertime, it doesn't matter where your hotel is, you'll be full, because the demand is so high," he said. "What I'm excited for is that we're going to be catering to leisure and what I'll call more local or work-based guests."
Dinger said he believes the Ketchikan hotel is fully staffed at this point. He said the hotel has an employee roster of about a dozen people.
He said details for the March opening celebration are still in the works, but they have a general plan for the party.
"We'll be having an open house and refreshments, and appetizers and beverages served, tours of the hotel and door prizes," he said. "We'll certainly try to make a little bit of a shindig out of it."
The Ketchikan facility is the second My Place hotel in Alaska. The first one opened in Anchorage. Dinger said they're looking at other potential locations in the state.
This report has been edited to add the official grand opening date on March 9.