The Ketchikan Gateway Borough Assembly kicks off its annual two-day policy and planning session Friday morning at 9 a.m.
The meeting takes place in Borough Assembly chambers at the White Cliff building. The public can attend in person, but the meeting also will be televised on local community access channels, and live-streamed through the borough's website.
The work-session-style meeting is broken into topics, and the first topic will be budget assumptions and guidelines. Borough staff provided some expectations, including flat sales tax revenue, flat federal funding, and a drop in state revenue sharing to the borough.
The projected deficit for next year is just shy of a million dollars, with reserves making up that difference. Borough administrators will present a plan to eliminate the budget deficit over the next few years, according to the agenda statement.
The Assembly also will talk about how to allocate its share of the state's cruise passenger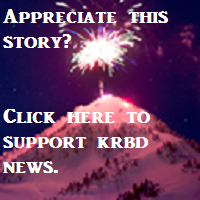 head tax. A suggested allocation would distribute those funds based on how much cruise passengers use various borough services.
That distribution is based on a report from the McDowell Group — which surveyed cruise passengers and crew last year to determine which services they use, and how often.
The survey was commissioned in response to a state audit that indicated some communities, including Ketchikan, might have used their CPV funds inappropriately. A memo from borough staff says they are confident that the proposed allocations would satisfy state requirements.
The Assembly also will talk about a policy to encourage local purchases by the borough; property tax exemptions; road development; and public transportation costs.
All the aforementioned topics are scheduled for the all-day Friday meeting. The half-day Saturday meeting is dedicated to school funding, and will include input from Ketchikan School Board members.
The Saturday meeting also starts at 9 a.m. in Assembly chambers. It, too, will be televised and live-streamed for those who can't attend in person.
There will be an opportunity for public comment at the start of the policy planning meeting.