The Ketchikan City Council on Thursday will vote on a resolution honoring retiring Police Chief Alan Bengaard; the Council also will consider sending a request to the Ketchikan Gateway Borough Assembly, asking that it no longer issue permits for sales downtown that happen outside of a structure.
The City of Ketchikan has a measure in place that prohibits such sales – it's part of an effort to discourage hawking during the hectic summer tourist season. But, the borough has the power to issue conditional use permits that would violate those city regulations.
According to a memo from the city manager's office, the issue came up during the last city-borough Cooperative Relations Committee meeting, and borough staff suggested that the city send over an official request. That request would be for the borough to change its code to mirror the city's regulations.
The resolution honoring Bengaard comes about a week before his scheduled retirement on Jan. 27th. The resolution notes that Bengaard started work at the Ketchikan Police Department in 1988 in the patrol division. He also worked as a drug investigator.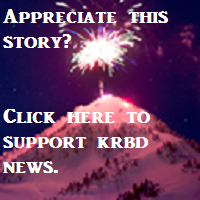 Bengaard became police chief in 2011.
In his report to the Council, City Manager Karl Amylon notes that the city has not yet found a replacement for Bengaard, and the city will expand its search outside of the community.
In the meantime, Lt. Joe White will serve as the acting chief.
Thursday's Ketchikan City Council meeting starts at 7 p.m. in Council chambers. Public comment will be heard at the start of the meeting.