For the past couple years, Metlakatla residents have been asked to conserve power. The lake levels on Annette Island have been low, and this winter's cold, dry spell made things even worse.
But, recent rainy weather has provided some relief while Metlakatla Power and Light works toward increasing its hydro capacity.
About two years ago, Alaska's only federal Native reserve had to switch from hydro to diesel as its primary source of electricity. Metlakatla Power & Light General Manager Paul Bryant said that in the summer of 2014, they noticed that the lakes just weren't filling the way they used to.
"So, presently out of the four hydro units that we normally run, we are only able to run two at this time, although we are getting rain this week and there is some snow runoff, so I believe we're able to run an additional hydro generator," he said.
Bryant points to climate change as the reason for reduced annual rainfall and less water in the lakes.
"We've recorded several of the lowest rainfall months in history over the last several years, so global warming, climate change – whatever theory – but it's definitely different," he said.
A recent week of rain and warmer temperatures was good news for all of Southeast's hydro needs, particularly on Annette Island, where they had to buy another diesel generator this winter to meet the community's power needs.
"Because in addition to no water or snow, it's also been unseasonably cold, which means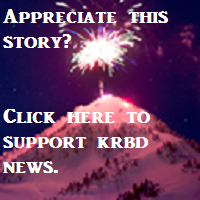 the demand on the load is higher with reduced resources to meet that load," Bryant said.
They've been preaching conservation for the past two years, he said. Then this winter, they periodically asked some of the larger customers that have their own backup generators to switch over to those rather than rely on municipal power.
Even with those measures, though, "there were several points where we were actually discussing, if we couldn't meet the load, what procedure were we going to use to determine who received power and who didn't," he said. "Fortunately, we didn't get to that place."
They have a plan for how to manage those kinds of emergency measures, Bryant said, but they don't want to implement that plan. The rainstorm made everyone connected to Metlakatla's power company happy.
"I believe my director of plant operations was seen dancing in the streets," he said. "They've been under a lot of pressure. The additional rain has been very much welcome."
But, with continued warming trends expected, the community is looking at options, including some plans that have been in the works for a while. One of those is a new hydroelectric facility at the island's Triangle Lake.
Bryant said the design work is almost done, so now they just need a funding source. If they can get the money, he hopes the new facility could be completed in three years. Most hydroelectric projects take a lot longer, but Bryant said Metlakatla might be able to speed that up.
"One of the longer portions is the permitting, which may or may not be an issue because of Metlakatla's reserve status," he said. "But then again, that's – we're hoping to get it done within three years."
Another project is about three-quarters done. It's an intertie that would connect Annette Island to Ketchikan. That would allow Metlakatla to hook into the larger Ketchikan Public Utilities electrical grid, which is part of the even larger Southeast Alaska Power Agency grid.
With that connection, Metlakatla could purchase hydroelectric power when it runs low, or sell it if the community gets to a point where it has a surplus. Bryant said the missing one-quarter section of the project is the most expensive: An undersea cable crossing the channel between the two islands.
That project, too, needs funding to complete. And right now, funding sources are few and far between.
Bryant said the community has set up a special energy department that's looking at other options, such as tidal or wind-generated power, for potential future projects. In the meantime, though:
"Conservation, demand-side management and energy efficiency have become buzzwords," he said. "We've actually been going into the school systems and the kids are extremely receptive to it."
Conservation is good advice for everyone, really, so: Turn off the lights when you leave the room; turn the heat down a bit and put on a sweater; and hope for rain.