The Ketchikan City Council voted unanimously Thursday to not fund a shuttle for the popular Wearable Art Show.
The proposed shuttle, which the city funded last year, would have brought audience members from the Centennial Lot in the downtown area up to the Ted Ferry Civic Center. The shuttle would have cost the city about $1,350 for all three nights.
Parking at the Ted Ferry is limited and every year the parking lot fills up quickly for each performance of the Wearable Art Show. There is a somewhat steep, unlit gravel trail people can use to walk up from the Centennial Lot, and audience members can take the Cape Fox Lodge Tram, if it's operational that weekend.
Council Member Judy Zenge questioned why the city would fund a shuttle for the Wearable Art Show when it wasn't providing one for this weekend's upcoming Jazz and Cabaret performances.
"I've got nothing against helping these people out, but I think we gotta be kind of consistent here," she said. "If we're going to offer it to one group, we bloody well should offer it to everybody, and why are we offering it?"
Mayor Lew Williams III responded that with so many people arriving at the same time for each of the shows, it's difficult for the tram to keep up with demand, even if it is functioning.
But other Council members agreed that it's not appropriate for the city to pay for a shuttle to events at the city-owned Ted Ferry Civic Center. Here's Council Member Bob Sivertsen: "These events are charged for and they're fundraisers and they make money. They may want to program in the shuttle service, if they think they need it, into their expense accounts."
The Wearable Art Show is a major fundraiser for the Ketchikan Area Arts and Humanities Council, a nonprofit organization that promotes the arts in the community.
Council Member Dick Coose noted that since the Arts Council is a nonprofit, it's not collecting sales tax for the city on ticket sales.
"So, we're not doing anything except helping them get it done, and we already give them money anyway in the grants program, so I'm really reluctant to continue this thing," he said.
The Arts Council receives an annual grant from the city through the community agency grant program. Council Member Julie Isom said she'd rather have money for the shuttle go into the community grants fund, and be used through that program rather than to directly fund a shuttle, which she referred to as "fluff."
Zenge agreed that she'd prefer nonprofit groups add the cost of shuttles to their annual grant requests.
The Council voted 0-5 to reject the motion. Two Council members, Dave Kiffer and Janalee Gage, were absent because they were attending a rehearsal at the Ted Ferry Civic Center for the Jazz and Cabaret show.
Also Thursday, the Council voted unanimously in favor of a resolution honoring retiring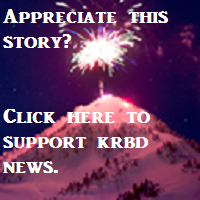 Police Chief Alan Bengaard.
Council Members also heard from Mark Woodward, co-owner of the Stoney Moose, a planned marijuana cafe.
While the business has its retail permit, the state Marijuana Control Board has not yet approved regulations for cannabis lounges. Those are businesses where people can buy and consume marijuana on site.
Woodward asked the Council to send a letter to the state asking the board to approve those regulations. He said cruise destinations like Ketchikan need cannabis clubs. Woodward said that, even if only 5 percent of cruise passengers want to buy and use marijuana, that equals about 300 people per day.
"And the question is: Where do we want them to go?" he said.
Marijuana is prohibited aboard cruise ships, so passengers who purchase it would have to consume it before getting back on board, or risk getting kicked off the boat. But, it's also illegal to consume marijuana in public.
Mayor Williams asked when the state board was meeting again. Woodward said there's a meeting in February, and probably another in March. The first cruise ships start arriving in Ketchikan in early May.