Ketchikan Gateway Borough Mayor David Landis gave his "state of the borough" address to a Chamber of Commerce audience on Wednesday.
Mayor Landis started his presentation with some numbers:
"The borough is 6,900 square miles," he said. "That's larger than the state of Connecticut. You could probably throw in Rhode Island, too. (We have) 13,788 citizens; school enrollment, 2,239. The unemployment rate is 6.8 percent, which is 1.1 basis points less than last year and .2 higher than the statewide figures through November."
Landis moved on to what he said are the borough's biggest accomplishments of the past year. At the top of that list is the commitment from Gov. Bill Walker's administration to spend what's left of the original $364 million Gravina Access federal earmark on actually improving access to Gravina Island.
"Out of that $364 million, many millions were spent on studies," he said. "We love to engineer things and do economic analyses and so forth – environmental analyses – so, a lot of the money was spent there; $209 million of that was reappropriated to other areas of the state."
There's about $96 million left, which state officials have agreed to spend in Ketchikan. Landis also mentioned the shipyard as a major boost to the community's economy, especially after Vigor Industrial was able to secure a contract to build two new state ferries here.
Landis said the related jobs and local spending will help Ketchikan weather the state's fiscal storm.
A big topic that the borough spent time on in 2016 was pot. Landis said after much discussion, the borough decided against a boroughwide sales tax on marijuana – at least for now – and to not stand in the way of the new industry.
The Assembly did, though, approve a tobacco tax, which then went to voters for ratification.
"And that did pass, so that's a $2 a pack tax on cigarettes and most of that money – 85% of it – is programmed to go to schools; and 15 percent for cessation programs," he said.
That tax will sunset after five years unless the borough renews it.
Landis also went through a list of the borough's departments, with brief updates on each. One of those was the airport, which Landis said might have to increase its summer ferry runs. Alaska Airlines plans to convert its fleet to larger planes with greater passenger capacity.
"Our airport manager has informed us that could create additional ridership on the ferries, which could leave some people stranded if we're not running two ferries continually during the summer," he said.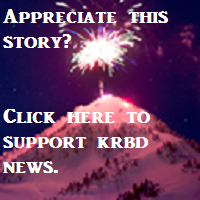 Landis introduced new Borough Manager Ruben Duran, who moved here from southern California. Former Borough Manager Dan Bockhorst retired at the end of December after more than nine years in the position.
After Landis' presentation, he took questions from the audience. One person asked about the borough's financial health. Landis said the Assembly and staff have worked to help the borough "glide" through the state's fiscal woes, in hopes of a soft landing.
But, state budget constraints do trickle down to local governments, so there will need to be cost-cutting.
"I think we're trying to conserve as much as we can and minimize the impact to this community for as long as we can until other measures have to be taken," he said.
The most recent projection shows the borough running out of reserves by 2021 if no changes are made to the budget. Duran has told the Assembly he will present a plan this spring to eliminate the borough's budget deficit within a few years.