Five Ketchikan students have been awarded scholarships through the Sam Pitcher Memorial Scholarship Fund.
According to an announcement from Karen Pitcher, the students are seventh-grader Sarah Short, eighth-grader Abbigail Gaugler, 10th-graders Ezrie Anderson and Karri Montero, and 11th-grader Terran Stack.
The students will receive $500 each to attend the Sitka Fine Arts Camp.
According to the announcement, Sarah Short wants to to improve her varied music skills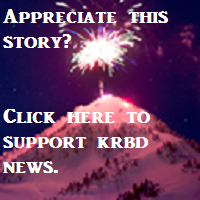 and take an art class. She plays percussion, piano, electric bass and ukulele, and sings.
Abbigail Gaugler sings and plays piano, flute and saxophone. At the camp, she wants to focus on the flute, but also would like to extend her vocal range.
Ezrie Anderson was a 2015 recipient of the Sam Pitcher Music Scholarship, as well. She wants to improve her drumset and percussion skills.
Karri Montero sings and is teaching herself to play guitar. She is especially interested in learning opera techniques.
Terran Stack is a vocalist, and hopes to focus on singing at the camp.
The Sam Pitcher Music Scholarship Fund started following Sam's death in 2003 at age 16. Ketchikan students in grades 7–12 are eligible for the annual scholarships, which go toward summer music programs.