Ketchikan Wellness Coalition has received a state grant to work toward reducing the triggers that can cause depression.
Emily Chapel of the coalition's Behavioral Health Task Force spoke Thursday to the Ketchikan City Council about the grant, and the task force's research leading up to receiving that funding.
Chapel said that research took about a year and a half.
"We were tasked with a job of identifying the largest behavioral health needs in Ketchikan, and the ones we could do something about," she said.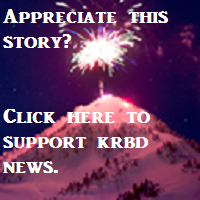 The group identified depression as one of the biggest mental health concern in the community. Chapel said they came up with three ways to help prevent depression: Reduce stress; reduce the stigma attached to mental health disorders; and increase the awareness of treatment options.
Chapel said the task force will work with various groups to achieve those goals, including the Ketchikan Chamber of Commerce.
"Because we found that people are stressed out and most people are in the workplaces," she said. "So, we're going to look at how we can work with local businesses and business owners to not only improve the health of their employees, but then therefore improve the health of their businesses and the way their businesses run."
Chapel said the group also plans to offer free workshops. One will focus on reducing the stigma of mental health disorders, and another will teach mental health first aid.
The task force also will work with Southeast Alaska Independent Living's Ketchikan office to design a navigation system to help people understand and find the behavioral health services they need.
Chapel noted that there is a short supply of people who can provide those services.
"The Ketchikan Gateway Borough has been a nationally recognized health-professionals shortage area for mental health providers since 2011," she said. "So, that might be something to just keep on our radar that nationally speaking, we're recognized as having a shortage of people who can actually provide any sort of counseling and treatment."
The state grant can't go toward mental health services, Chapel said, because it's supposed to focus on prevention rather than treatment. But, they hope that through their work, they can reduce the need for treatment.
Chapel said that through the grant, the Wellness Coalition will have about $60,000 to spend locally on improving mental health in Ketchikan.