Ketchikan's Trevor Shaw was among the hundreds of thousands of people who flocked to Washington, D.C., on Friday to witness the inauguration of Donald Trump as president.
Ketchikan resident Trevor Shaw is a self-described politics geek. He is chair of the district's Republican Party, and was a delegate to the Republican National Convention back in July.
While he initially supported Rand Paul, and later Marco Rubio for president, Shaw was completely on board with Donald Trump's nomination as the Republican candidate.
So, when Shaw got an invitation through Sen. Lisa Murkowski's office to attend Trump's inauguration, well, it was exciting.
"Yeah, it was just one of those once-in-a-lifetime experiences," he said. "To have been able to go to the convention and go to the inauguration, it's definitely something that doesn't happen all the time. And for me, this being the first presidential election I can vote in, was able to be involved in as a voter, as a delegate and to be able to go to the inauguration was just huge for me."
Shaw and his wife already had planned a vacation that coincided with the inauguration, so they made some adjustments that allowed them to drive to D.C. from Florida the day before the big event.
They arrived in time to attend a reception for Alaskans with Rep. Don Young, and to go to a pre-inauguration concert. Then the next day, they were up bright and early to shoulder their way through the sea of people, all headed to the same place.
Like most people who live in Ketchikan, Shaw is not used to that kind of crowd.
"It was crazy. This was my first time driving on the interstate, that was a huge thing. This whole six-lanes concept is kind of like: Whoa," he said. "Then we get to D.C. and we hop on the Metro and, like I said, 800,000 other people trying to get around for the inauguration, too. Shoulder-to-shoulder the entire length of the platforms, waiting 20-30 minutes getting through to get on the next train and the next train and then finally being able to get on."
The Metro is D.C.'s largely underground public transit system.
Once they got to the site of the inauguration, there was security, of course. But, Shaw said, it was fairly smooth sailing.
They were in a pretty good location. Shaw said they were about 2,500 feet from the main platform, and then they were large screens nearby showing live feeds of the approximately 45-minute ceremony.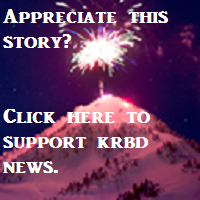 It was kind of cold and kind of rainy. Not rainy by Ketchikan standards, of course, but drizzly.
Leaving wasn't quite as smooth as arriving, because everyone was trying to leave at the same time, partly to get out of the weather. Shaw said he and his wife had to find a different Metro station than the one they'd used on the way in.
"Because the line into the station we came off of was about seven blocks long," he said.
There was news coverage of some protests the day of Trump's swearing in. Shaw said they did see some dissenters as they traveled to the event.
"On the way in, they were sometimes right next to us as we were trying to get through the lines and everything," he said. "Just before we got in the gate, actually, there was a confrontation between protesters and the police. I'm not sure what the result of that was, since we were just getting into the ticketed area right about the time that took place."
But, neither protesters nor weather dampened Shaw's spirits as he watched his candidate assume the highest office in the United States.