The Ketchikan School District is working on new ways to intervene when students are struggling academically.
In his regular report to the School Board, which meets on Wednesday, Superintendent Robert Boyle outlined the STEPP plan – that stands for Steps Toward Educational Progress and Partnership.
Boyle writes that the plan calls for reviewing summer school programs; providing more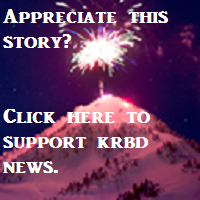 intervention training to administrators, teachers and other staff; and surveying students on school connectedness and risky behavior.
Boyle has asked for School Board input on the plan.
Also Wednesday, the Board will hold a public hearing and final vote on a policy that allows high school students to test out of some courses.
Other policies to be considered in first reading establish emergency safety measures, how to respond to campus disturbances, and how to respond to harassment or bullying.
The School Board also will vote on whether to spend about $2,500 to send two board members to the Alaska Association of School Boards legislative lobbying fly-in.
At the end of Wednesday's meeting is an executive session to discuss contract negotiations with Ketchikan Education Association.
The meeting starts at 6 p.m. in Assembly chambers at the White Cliff building. Public comment will be heard at the start and end of the meeting.