Ketchikan's new library director, Pat Tully, has been on the job since early January. She most recently was assistant director for the Russell Library in Middletown, Connecticut, and previously was the university librarian at Wesleyan University in Middletown. She has a Masters of Information and Library Studies from the University of Michigan. Tully says she's been working in public and academic libraries for about 30 years.
"Starting in Indiana, which is close to where my family lives in Ohio; then going to the Virgin Islands for a while; then Gettysburg, Pennsylvania; then  Massachusetts; and, finally, Connecticut."
Tully says when she came to Ketchikan for an interview last October, she was entranced, mostly because of the people.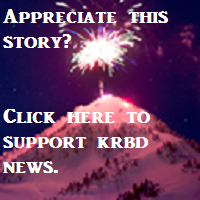 "I'm very interested in community, and everyone I met here, from the time I got off the plane until the time I got back on the plane, and everybody in between, were so friendly and welcoming. That meant a lot to me. It felt very much like home even though I wasn't home."
Speaking about her interests, Tully says she enjoys hiking, and is looking forward to participating in outdoor activities. She was a Rotarian in Connecticut, and is applying for membership in one of the local Rotary clubs. Tully says she's also interested in local history.
"I was also very involved in the historical society in Middletown. I understand you have a very active historical society and museum. So I think all of those things, for a start, and then just learning more about this community and see where I might be useful."
Tully says she's impressed with the library building and all it has to offer – including programs and meeting spaces. She says she plans to do a lot of listening and learning over the next few months.
"Listening to the library staff, listening to the people who come into the library, and other people in the community, to find out what the library can do that it's not doing already. It's doing so much. It's very impressive. But I want to be sure that the library responds to community needs as much as possible, and I'll just be talking to people to find out if there are other ways we could be doing that."
Tully encourages people to stop by the library to meet her and share their thoughts and ideas.