The Ketchikan School Board talked Wednesday about the costs associated with activities, and how to budget for those costs.
A significant portion of the expense is related to travel. Superintendent Robert Boyle said next year's proposed budget puts activities funding at about $611,000.
"If we fund it at that level, we will have a lot of fundraising activities, because this won't put our students into enough competitive games to qualify for regions and those types of things," he said. "They need another $56,000."
Some activities require teams to compete a certain number of times in order for them to play at regional and statewide levels.
Boyle said $56,000 would cover the minimum. If the board wants teams to play as much as possible and therefore be fully prepared to compete at regional and state levels, the district would have to provide about $100,000 more than is currently budgeted.
But that's not all. Because other items – travel out of state, special training camps, etc. – would require $400,000 more than the current budget.
Boyle said the School Board, with recommendations from a newly formed activities committee, will have to decide what level of funding to provide.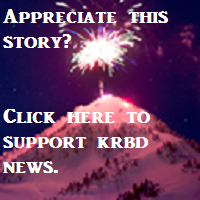 School Board members were interested in a breakdown of the minimum requirements for various activities, and the associated costs. Ketchikan High School Principal Bob Marshall said that can be provided, but he pointed out that the requirements vary widely, and the district needs to keep things fair when coming up with a funding solution.
"For example, we've got one activity – they don't have to compete in any competitions prior to the region tournament," he said. "So, we could practice, practice, practice (and) never see any competition, just show up at the region tournament and hope our kids make it. We all know that's not going to create an established activity that's going to be viable in the future that's actually going to compete. To have healthy competition, we are hoping to be involved in something other than the minimum obligation."
School Board Member Glenn Brown, who is on the activities committee, said the group will work to help the public understand how activities funding works, and the various options. The committee then will come up with some recommendations for the School Board.
It was noted that some school districts fully fund their activities programs, so students don't have to fundraise and don't have to pay fees.
Boyle said locally, the district collects about $36,000 a year through activities fees.
"I think we want to talk about that. I know it's been a conversation many times that some of our students are not participating due to finances and if that's true, I want to make sure we offer that information to the board on how we can eliminate that and not have any student identify themselves as not financially able to participate," he said.
There was no School Board action on the issue Wednesday.
The Board also honored Houghtaling Elementary School sixth-grader Seth Webb, who launched a campaign to purchase two water-bottle filling stations at the school. Seth told the Board that it started when a teacher saw him struggling to fill a water bottle.
The teacher challenged Seth to start a process to get the fountains.
"First I wrote a proposal offering the reasons of why it was good," Seth said. "Then I got a petition with over 100 signatures."
Seth submitted those, and the proposal was approved. But, the school only had enough for one fountain. They will have to raise money through popcorn sales to pay for the second one.
Also Wednesday, the School Board declined to spend $2,500 to send two Board members to Juneau for the Association of Alaska School Board's legislative lobbying fly-in.