The World's Strongest Man was in Ketchikan last week. Bill Kazmaier speaks about his life, years of competition, and desire to help others achieve their goals.
Kazmaier won his first strongman title in 1979, bench-pressing 622 pounds in the super-heavyweight category. That year, he won titles in the American Powerlifting Championships and IPF World Championship. Kazmaier claimed the title of "World's Strongest Man" in 1980 and 1981. For more than a decade, he competed and broke records, retiring from the sport in 1990.
"I set the record so high, that it took 30 years for many men to catch up. I've been all over the world doing the World's Strongest Man competition, which is bending bars, lifting logs, pulling trucks, and that competition is seen on television."
For the past 20 years, Kazmaier has been a commentator for that televised show. He also is a massage therapist for Arctic Chiropractic, and travels throughout the state promoting the business. An office opened in Ketchikan about five months ago. Kazmaier was in the First City in mid-January for an open house, and to give presentations around town and in classrooms.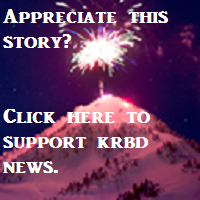 Kazmaier says he came from a dysfunctional, single-parent home, and struggled academically. He says he got away from that situation when he was 10 years old, and found something he excelled in – sports.
"But I quickly realized not only that I learned lessons from sports that helped me in school, and lessons in scholastics that helped me in sport. So my message is, that many young people, as they're growing up, if they dare to dream, shoot for the stars, and soar with the eagles, and hang out with the condors, and stay away from the chickens and turkeys, maybe they can excel and be the best they can be."
Despite academic difficulties, he attended the University of Wisconsin and played football. He dropped out of college after two years to focus on power lifting. Kazmaier says his life changed when he walked into a YMCA. He says there, he learned squat, bench press, and dead lift. Kazmaier says the most important thing he learned was to pray.
"And when I did, I said, 'When you make me the best, I'll be humble, I'll share my talents with others. One day you can speak through me and I'll work for you.' And it's pretty amazing, because within a year I was the national champion. The next year I was the world champion, and then the World's Strongest Man. So I have a religious belief that there is a power in the universe that you can tap into and I believe I did. It tapped into that supernatural power, and was given superhuman strength, through the power of prayer."
Kazmaier shares his story to give back, and to let young people know they can achieve their dreams. He encourages them to "conceive, believe and achieve."
"Where one would pick a short-term goal…or long…and then develop a plan to get to that goal. Of course, they must believe in the goal, believe in the plan, and believe in themselves. Conceive, believe and achieve. The achievement part is simply: One foot in front of the other. Following the plan. Due diligence, dedication, desire, determination, consistency, and a little bit of hard work will get someone to where they want to go."
Kazmaier says he also seeks to motivate and inspire youth because he didn't get support growing up.
"I lacked a mentor and people who were actually opening that door, and turning the light on for me, to understand that I actually could be something  more than what my father told me that I would be as I grew up. And he told me I'd be little or nothing in my life. Instead, I'm now the world record holder, the World's Strongest Man, TV commentator. I travel the world and I tried to become the best I can be every day in every way."
At age 63, Kazmaier no longer competes, but does cardiovascular workouts every day and weight trains.