The Tongass Historical Museum is under renovation, and a new, permanent exhibit will be revealed in spring of 2018. The Ketchikan Museum Department is seeking input on what community members would like to see in their new museum.  The first of a series of community conversations was held Wednesday night.
More than 25 people, along with museum staff, attended the first of two conversations scheduled in January.  Ketchikan Museums' Curator of Exhibits Steven Villano says he's excited to start the process of putting into words what makes Ketchikan special.
"How do we talk about it?  How do we say it? How do we crystalize it? And how do we put it forward in a way that works for us, and works for visitors at the same time? Because we serve both those purposes."
While the purpose is to help shape the new permanent exhibit at the Tongass Historical Museum, Villano says he's hesitant to call it "permanent."
"Because right now, I'm thinking about the museum as an entity, not as an exhibit. It's not a warehouse. It's not just a place. It is a cultural conduit. So this goes for the exhibition, how we talk to one another, and what role we serve in the community. That's all beginning right now. So bear with me. I want to start with the big ideas so that we can develop that as we go."
A few people asked the objective of the evening, and what parameters or limitations they needed to consider, such as available artifacts and square-footage of museum space.  Villano says there will be limitations, but at this early stage, they are just looking for ideas, visions, and how the space can be used.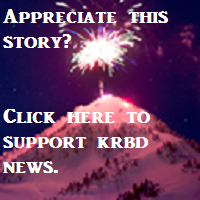 "Right now these ideas can manifest in different ways – in objects, in programming, in language, in classes that we offer. Is it Totem Heritage (Center)? Is it the Centennial Building and the Historical Museum? These are all Ketchikan and they're all interlinked."
Participants then broke into groups to brainstorm ideas. Many shared their memories of what Ketchikan was like when they first arrived, and how it has changed over the years.
After about 45 minutes, each group presented a summary of what was discussed. Anita Maxwell with the museum department took notes and spoke on behalf of the first group. She shared comments from participants Mary Ida Henrikson and Susan Heisler.
"'Water in abundance makes us fearless, and thus it frees us up to do everything that Ketchikan does.' One of the common themes in this group was that 'Ketchikan is a community of doers.' We make our own things. We do our own thing. And, as Susan said, 'Because of the water running though our veins.'"
Villano says it's difficult to synthesize all that came out of his group, because there were so many different ideas. He says a common thread was the sense of a community providing for each other.
"Ed (Zastrow) had a beautiful idea about the transportation in – that we're all here on account of what can be brought here. And some lovely stories about how the halibut fleets interacted, how the jobs would change hands in the bars, and if you needed something you went to the community, and the community provided in a sense."
His group also discussed the dress code – red rubber boots – and the utilitarian aspect of things.
Museum Director Lee Gray shared the thoughts of her group. She says one topic was connection to the land and dependence on the resources. Gray says Ketchikan is the hub for outlying industries.
"The logging, the mining, the fishing, all the things that go around Ketchikan, and that expands our territory, so that we are a much larger community, but it's really the hub connection."
She also mentioned the interdependence of people.
Villano says this is just the beginning of a long conversation, and encouraged participants to continue sharing, and invite others to join in the discussion. He says Ketchikan Museums wants the new exhibit to accurately reflect the true character of Ketchikan and its history.
You can contact Steven Villano with your comments or ideas: Phone – 225-5600, email: StevenV@ktn-ak.us