Gov. Bill Walker was in Ketchikan on Saturday to attend the annual Ketchikan Chamber of Commerce awards banquet. Before the event, he sat down with local media for a few minutes to talk about current issues facing the state.
Alaska's governor is optimistic that the new House majority, and the Legislature overall, will be more willing this session to look at budget reforms.
Gov. Walker said almost everyone in Juneau acknowledges that there's a problem that needs to be solved. He was referring, of course, to the state's budget deficit. Alaska's revenue went into a freefall a few years ago when oil prices dropped. The vast majority of the state's revenue comes from oil taxes.
"The last session, there was some reluctance about whether there really was a problem, whether we can wait it out," he said. "I'm hearing very little of that at this point. I'm pleased about that."
Some of the proposed measures for adding revenue include various taxes, and using part of the Alaska Permanent Fund earnings after capping the amount residents receive in dividend payments.
Walker said more cuts also are likely, but there's not much more that can be cut without seriously affecting services.
"They say the price of entrance for new revenue is a reduced budget. We've reduced $1.7 billion. That's a lot," he said. "There's a lot of things we don't do now that we used to do. A lot of trooper stations that are closed – there's about seven – maintenance stations that are closed. Lots of layoffs."
On a national level, Walker said the executive order that President Donald Trump signed regarding the ACA doesn't necessarily affect Alaska, but Walker's office is watching what's happening with other changes to the Affordable Care Act.
"Partly because, we have an additional 27,000 Alaskans that now receive (health insurance) as a result of Medicaid expansion," he said. "Health care is a big issue for Alaska. We are working with our delegation and watching the changes that are anticipated closely."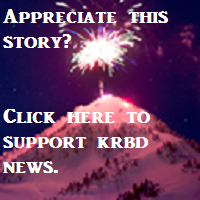 Walker said he is pleased with Trump's choice for Secretary of the Interior, Ryan Zinke, who Walker was able to talk with while in Washington, D.C., for Trump's inauguration.
"I was very pleased with that discussion – recognition of the need to have access to our resources," he said. "That was a real bright spot for me, for sure, to have that kind of dialogue with incoming Secretary of the Interior Zinke."
There have been some concerns raised among fishing groups about President Trump's proposals to relax Environmental Protection Agency rules. Walker said he believes the result will be more state input into regulatory processes, which he said is a good thing.
"Because we certainly are mindful of not wanting to have an adverse impact on our fishing industry in any way," he said. "So, that general attitude of being able to be heard is certainly something I'm looking forward to."
Walker is about halfway through his term, which started about the same time that oil prices dropped. It's been challenging, he said, but
"I really enjoy what I do, I really enjoy the job. I really enjoy being governor," he said. "Even in (these) circumstances. A lot of people come up to me and give me condolences for being governor at this point. I'm really glad I'm governor at this point. We will get this resolved."
Gov. Walker said he hasn't thought much about whether he's going to run for re-election, because he has been focused on getting the budget problems taken care of. But, he said he would consider another run.
Walker said he decided to attend Ketchikan's Chamber awards banquet because his schedule allowed it, and he hadn't visited Alaska's First City for a while. While he didn't visit the shipyard this time, he said he saw the finished half of the new state ferry Tazlina while driving past.
"I assume there will be a stern at some point," he said. "The bow is looking pretty darn good."
The shipyard has a contract to build two new state ferries. The Tazlina will be the first.
During Saturday's Chamber awards ceremony, Gov. Walker spoke briefly and then was on hand to congratulate each of the award winners as their names were announced. We'll have a story about the Chamber awards on Tuesday.