Recently retired Dr. David Johnson was honored during this weekend's Ketchikan Chamber of Commerce Awards Banquet, as was Trident Seafoods founder Chuck Bundrant.
Other local businesses and individuals also were honored for their contributions to the community.
Chuck Bundrant celebrated his birthday in Ketchikan, surrounded by his family and a crowd of local residents who turned out for the Chamber of Commerce's annual awards banquet.
Everyone sang the "Happy Birthday" song, and Bundrant blew out the candle on a small cake. He also was given the Pioneer Achievement Award, recognizing him and his company for its ongoing success in the Alaska seafood industry.
Chamber board member Mary Wanzer presented the award.
"This man's pioneering spirit has resulted in Trident ranking as North America's No. 1 seafood company, employing over 10,000 globally, 6,500 in Alaska and over 500 men and women in our local community," she said.
The Chamber's community service award was presented by board member Rachel Guyselman. She said Rusty Anderson received more than 15 nominations for the award, citing his volunteer efforts to help local seniors who need repairs or other work on their homes.
"This gentleman has brought independence to the once homebound by building a wheelchair ramp," she said. "He's brought peace of mind to loved ones who live afar because they are unable to help with small tasks. He's touched the lives of many within our community."
Board Member Katherine Tatsuda presented the youth service award to Bella Posey. Tatsuda noted that Posey volunteers about 300 hours a year, works with Ketchikan Youth Initiatives, and attended youth leadership summits, including one that focused on sexual health and relationship issues for youth, and helped form the Ketchikan Advisory Youth Council.
"Our outstanding youth leader has participated in task forces to stop bullying in school and encourage students to be more open and understanding to one another," Tatsuda said. "She is part of a youth council to advise the United States Forest Service on how best to use the Tongass National Forest. She is an active member of the Ketchikan Arts and Humanities Council. This is just a small snapshot of what our 2017 Outstanding Youth Leader does within our community. It's pretty impressive. It's even more impressive when you learn she's a 17-year-old senior in high school."
Board president Marc Guevarra presented the Entrepreneur of the Year award to Trevor Sande and his Hump Island Oyster Company.
"In a short time span, the company has become a commercial-scale success, and it's gained a reputation for a product of exceptional quality," Guevarra said.
Sande's other business, Marble Construction, also received an award: Business of the Year. That was presented by Chamber board member Jason Custer.
"Their recently completed projects are well recognized, and include the Berth 4 commercial building, the Trident seafoods plant, the new NAPA auto parts store, the Ketchikan borough bus shelters, the Saxman Seaport renovations and VPSO duplex, and so much more," Custer said. "Our business of the year always seems to be busy at work, and is currently completing a new hangar for Guardian Air on Gravina, as well as a renovation of The Landing hotel."
Bett Jakubek, who is a Chamber board member and works for PeaceHealth Ketchikan Community Foundation, presented the Citizen of the Year award to Dr. David Johnson, who retired from PeaceHealth at the end of last year.
"We have been blessed here in Ketchikan to have had an extremely skilled, compassionate and dedicated physician care for our most precious citizens for over 45 years," she said.
Jakubek read a letter from a former patient who was diagnosed by Johnson with juvenile rheumatoid arthritis. The patient writes that Johnson cared tirelessly for her throughout her life.
"Dr. Johnson was there when I walked, yes walked, across the stage and received my high school diploma; and he was also there when I walked down the aisle when I was married in 1993," Jakubek read. "I hope he was as proud as I was to be able to walk, because it was all because of him."
Johnson told the audience that one of his favorite sayings is: "Physicians are gifted – unique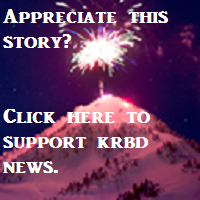 among men – with a front-row seat for the drama of life."
"And that's really been my privilege for the past 46 years. I've seen many of you in this room at your very, very best; a few of you at your very, very worst," he said. "But the opportunity to stand at the bedside when someone is born or to hold someone's hand while they die is a tremendous privilege. And I honestly am very thankful to this community for that privilege that you've given me."
Ketchikan's Citizen of the Year award has been handed out every year since 1967. Some of the past recipients have been Agnes Royer, Ted Ferry, Ken Eichner, Sister Barbara Haase and Nathan Jackson.