The decision by the state's Marijuana Control Board on Thursday not to allow on-site consumption of marijuana will affect one business in Ketchikan.
The Stoney Moose, located on Stedman Street, in the former Thai House restaurant, intended to open a lounge where customers could smoke and consume marijuana products. The business is owned by E&M Holdings, LLC. Mark Woodward is one of the co-owners.
"It's just like anything else that happens in a new industry. There are going to be bumps in the road. I guess we shouldn't have thought the whole thing will be smooth sailing."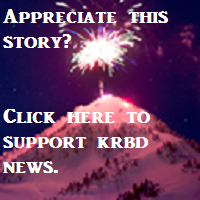 Woodward feels his company's business plan addressed all issues of concern presented by the board, and was surprised by the decision. He says, being dependent on the cruise ship industry, Southeast is different from other areas of the state, and even other states.
"I didn't hear anybody bring up Southeast and the fact that these cruise ship people need a place to go. And that's different from Maine. That's different from Washington and Colorado and Oregon. I just don't think the board thought that end of it through."
It is illegal for cruise ship passengers to bring marijuana products aboard, so anything purchased in the First City would have to be consumed on-site.
Woodward says he and his partner still plan to open a retail store, but the lounge will be on hold.
Two other retail stores are planned for the Ketchikan area as well – Rainforest Cannabis at 726 Water Street, across from Berth 4 of the city's cruise dock, and Cannabis Corner on Mud Bay Road. Neither of those two stores requested licensing for on-site consumption.