Last Saturday, the Alaska Native Brotherhood and Sisterhood Camps 14 and 15 kicked off a week of events honoring Native civil rights leader Elizabeth Peratrovich. A family celebration was held at the Southeast Alaska Discovery Center that day.
The all-day celebration began with a car parade and a showing of the film "For the Rights of All: Ending Jim Crow in Alaska." The movie tells the story of those who led the struggle for equal rights for Alaska Natives, after the United States purchased the Alaska Territory in 1867. Elizabeth Peratrovich was just one of many Alaska Natives fighting for freedom from discrimination, and became the face of the movement. Testifying before the Alaska Territorial Senate in 1945, Peratrovich persuaded the senate into passing the Alaska Anti-Discrimination Act, the first such act in the United States.
After the film was shown, children from the Pioneer Home and Fawn Mountain IEA Preschools entered singing and drumming.
(music under)
Vickie Fouts is with ANS. She says students celebrate Elizabeth Peratrovich Day, February 16th, in the schools, but, in past years, their activities and projects have not been shown to a wide audience. Students from various schools created displays and art for the Discovery Center exhibit.
"We wanted to give the kids a chance to express themselves and show the entire community what civil rights mean to them, but mostly what Elizabeth means to them. What kind of a role model."
Fouts says the student artwork and projects will remain in the theater and be seen by thousands of visitors this summer.
"…and know what your kids did, what we did here, and I think a lot of people are going to know where the first civil rights legislation was made. Right here in Alaska in 1945."
Preschool teacher Tandra Thompson says her students started their projects at the beginning of the school year. Most are three or four years old at that time. She says they worked around three themes – "Caring," "Courage" and "Respect."
"It starts out at this level where they're just defining the vocabulary words of caring, respect, courage and kindness. Then it moves to more of the language experience of having the opportunity to tell about Elizabeth Peratrovich in their own words. Of course they don't write it, but we dictate it. On these they write one word, and it shows that writing has meaning."
She says one of the art projects was to draw animals and define what positive character traits they have.
"So they choose things like 'peace,' 'courage,' 'caring,' 'kindness." For instance, we have 'Courage means when some people are scared they do it.' So we talk about courage is when you might be scared but you do it anyway. And this child chose a lion."
One of the preschoolers, Kamila, shared what students in her class did to prepare for Elizabeth Peratrovich Day.
"We practiced singing our songs, and we kept practicing and practicing all day until we came to this place to sing our songs."
She also sang part of a song she learned.
(singing) "Elizabeth Peratrovich she was a Native leader. She worked with ANS. She worked with ANS. She worked with ANS, to make positive changes."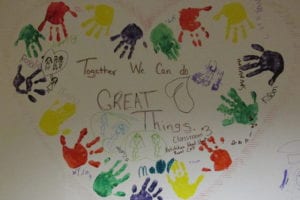 In addition to the preschools, displays include work by students from Fawn Mountain Elementary, Schoenbar Middle School, Tongass School of Arts and Sciences, and Headstart Rural Cap. Fouts says after school presentations on Elizabeth Peratrovich Day, projects from Houghtaling Elementary, and possibly North Point Higgins, will be added to the Discovery Center displays.
The theater at the Southeast Alaska Discovery Center will be dedicated and named in honor of Elizabeth Peratrovich at a ceremony beginning at 6:30 p.m. Thursday. Doors open at 5:30 p.m.