This story has been updated to included additional information…
A tug towing a barge ran aground Wednesday night on Rosa Reef on the northeast end of Gravina Island near Ketchikan. The accident happened at approximately 7:45 p.m. The captain of the Samson Tug and Barge Company tugboat Mariner radioed that his vessel ran aground and had a minor breach in the hull.
According to a press release, the Coast Guard and pollution responders were immediately launched, arrived on scene, and placed a boom around the tug. Three Southeast Alaska Petroleum Response Organization tugs took the barge to Ward Cove late Wednesday night.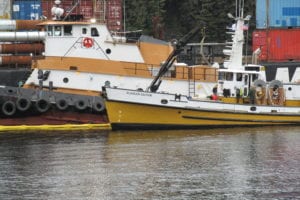 Coast Guard Petty Officer Jon-Paul Rios says the crew of the tug was able to plug the hull, and the vessel was later refloated and anchored in Ward Cove next to the barge it was towing. Rios says multiple agencies were on the scene Thursday assessing the situation, and determining what to do next.
"I was told that the people on scene right now are Marine Safety Detachment Ketchikan, which is a Coast Guard Unit. Also Coast Guard Station Kodiak, and a helicopter from Air Station Sitka. Also on scene is SEAPRO, members from NOAA, and ADEC."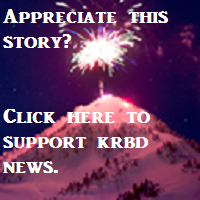 The tug had about 30,000 gallons of fuel on board, and the barge 40,000 gallons of diesel. Rios says the Coast Guard helicopter was brought in for aerial surveys.
"Others reported that they could see sheen. We hadn't had any kind of confirmation at this point, so we determined that we should do an overflight to kind of gauge what we're working with here. That way we can better come up with a plan of how to mitigate this."
In press release issued late Thursday afternoon, it's estimated about 1,100 gallons of fuel spilled from the tug prior to being patched by Alaska Commercial Divers Thursday night. A sheen was observed, and SEAPRO is tasked with containment and recovery using a boom and absorbent pads.
Representatives from Samson Tug and Barge, and SEAPRO were not available for comment.