On February 9th, the Environmental Protection Agency issued a public notice regarding a proposed administrative penalty, and agreement reached with the Ketchikan Gateway Borough for Clean Water Act violations.
In the notice, the EPA alleges the borough's wastewater treatment facilities at Mountain Point and Forest Park discharged pollutants into waters of the United States in violation of the Clean Water Act.
Borough Manager Ruben Duran says the alleged violations took place in 2011, when the EPA evaluated compliance with a permit that allows the borough to discharge materials into waterways.
"What they did is, they did their program, and their audit, and they came up and arrived at a compliance order, and there was an agreement that we signed in February."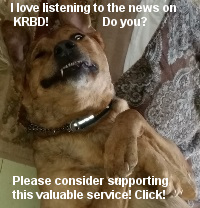 Duran says a preliminary report was received from EPA last fall, and violations were identified in two categories – inadequate record keeping, and exceeding discharge limits. He says problems with discharge were mainly due to materials put into garbage disposals. Duran says the borough has been working to educate residents about putting food waste in the trash rather than the wastewater system.
"We've already seen a drop in the amount of total dissolved solids that are coming through and the other materials that we test for. We are down below those numbers now."
The EPA proposed a settlement of $9,250, which the borough has agreed to pay.
In addition to working with residents, Duran says the borough has improved its documentation, record keeping and calibration systems, and developed a quality assurance plan.
"They've also certified the necessary employees that needed it. There were licensing updates that needed to occur. This was paperwork. And there was some calibration and maintenance at the facilities and sampling techniques, and ongoing documentation of that work being done."
Duran says, beginning this April and continuing through June 2018, there will be special reviews and audits to ensure the borough is in compliance with the agreement.
Final action by the EPA will not take place until after a 40-day public comment period. Comments will be accepted through March 13th.
________________________________________________________________
For additional information on this action, or to obtain a copy of the consent agreement, contact Rick Cool at 206-553-6223.
Written comments should reference Docket Number CWA-10-2017-0051 and be sent to:
Teresa Young, Regional Hearing Clerk
U.S. Environmental Protection Agency
Region 10 (ORC-113)
1200 Sixth Avenue, Suite 900
Seattle, Washington 98101-3140
206-553-1632